The challenges of a changing workforce
As part of focus on top manufacturing issues, this series examines the dynamic changes impacted by technology, from digital disruption to the evolving workforce. It's a new era, one where technology separates the super achievers from the stragglers.
The changing workforce and what manufacturers must do to get ready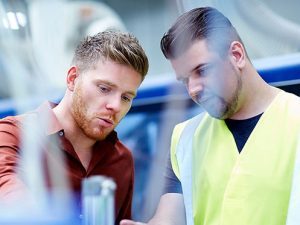 Manufacturers have been struggling to face the skills gap issue for nearly a decade. Retiring Baby Boomers have been leaving job vacancies that today's millennial workers either don't want or aren't skilled to fill. In the recent recession, numerous plant closing gave manufacturing a tainted reputation. Now, recruiting and retaining workers is especially challenging.
Over the next decade nearly 3 ½ million manufacturing jobs will likely need to be filled. The skills gap is expected to result in 2 million of those jobs going unfilled, says the
National Association of Manufacturers
. It's a conundrum. Politicians debate how to bring jobs back to America. But existing manufacturing jobs are unfilled.
This topic was one of the key issues in the recent election as "bringing American jobs back" was a rallying call of the Trump campaign team. Controversy followed. Experts are still debating whether automation, robotics and artificial intelligence are positive advancements for manufacturing or if these technologies can be blamed for workers losing jobs.
There is no room for debate around the fact that the workforce is changing and needs to continue to evolve in order to keep pace with the transformation of the manufacturing landscape. Automation is, and will continue to be, critical to keeping US plants competitive. This doesn't mean workers aren't needed. In fact, skilled worked are needed now, more than ever. But the skillsets required are new.
Identifying and training future workers
Training millennial workers to take on a future role in manufacturing is important. According to
Deloitte,
by 2025 millennials will comprise 75% of the workforce, yet 65% of millennials say they feel unqualified to take on a leadership role. Plus, only 15% of companies say they do excellent job of developing leaders from their current workforce. Who will lead the journey onward for manufacturers, suppliers, contractors and distributors?
What exactly will be needed from the workforce of the future? We can anticipate that manual jobs will continue to dwindle. Yet roles in technology, analytics, programming, design, customer relationships, ecommerce and creative problem solving will very likely continue to expand.
According to the
McKinsey Global Institute
, at least 30 percent of the activities associated with the majority of occupations in the United States could be automated. This includes many of the decision-making jobs and mid-management level positions, often thought immune.
Tomorrow's factories and future workers, then, need to be aware of the evolution and be prepared to continually adjust to changing environment, expanding skills where needed, contracting where needing.
"The ability to adapt their skills to the changing needs of the workplace will be critical. Lifelong learning must become the norm—and at the moment, the reality falls far short of the necessity," says a recent McKinsey report,
"Getting ready for the future of work."
The McKinsey report also highlighted results of The Consortium for Advancing Adult Learning & Development (CAALD), which recently met to assess the state of the workplace and explore potential solutions.
Here are some comments which came out of that event:
"The number of employees who are operating in more nonstandard, complex jobs is going to increase, while less complex work is going to be increasingly automated," said Bob Kegan, Harvard Graduate School of Education. "I'd suggest making the organization the most powerful incubator possible for the development of talent. You're never going to be able to hire and fire your way to the competencies you need. So you have to think about how work itself can foster talent," he added.
"There is a misconception that it makes sense to spend $300 billion to $400 billion a year on college students between the ages of 17 and 25 and then very little after that. But most Americans who need higher education and postsecondary training are 35, 45, 55," said Jason Palmer, general partner, New Markets Venture Partner.
"One of the things that I've spent a lot of time thinking about is how we train our students to think of AI or the machine as a team member rather than as a competitive threat. A lot of the analyst work is being taken over by machines, for example, but that gives the MBA graduates access to higher-skilled work. I think there's a competitive advantage to being human," Betsy Ziegler, chief innovation officer, Kellogg School of Management:
"While change is accelerating, one thing that is definitely not is the neuroplasticity of the brain. In other words, the rate of change in the world may have surpassed the speed at which the human mind can process those changes. I love tech, I love innovative technology, but this machine—meaning our brain—can only go so far," said Jeff Dieffenbach, associate director, Massachusetts Institute of Technology Integrated Learning Initiative.
"If you say to people, "You need to adapt," but you don't help them learn how to build a change-oriented mind-set, it doesn't really help. In fact, it hurts productivity," said Srini Pillay, Harvard Medical School. "People confuse productivity with the need for constant focus. But that will not optimize brain function."
See more comments from
learning experts
.
Learn more
here
in, "Why Digital transformation depends on Workforce transformation."
Let's Connect
Contact us and we'll have a Business Development Representative contact you within 24 business hours