The Evolution of Customer Engagement and What it Means for Manufacturers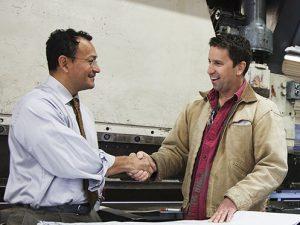 It's no secret that customer centricity is quickly becoming the most critical factor in establishing market differentiation and building long term customer loyalty for manufacturers. Yet many manufacturers struggle to know where to begin and how to closely align with their prospects and customers.
Here are some of the common questions asked, along with our answers.
What are some of the biggest issues around communication with customers that manufacturers face today?
Manufacturers today face a number of challenges in meeting the expectations of their customers. These can be either/or B2B or B2C customers and the issues on how to market to them and satisfy their requirements for choice and fast delivery times are pretty consistent.
First and foremost, customers want choice—they want to buy products with the options they want and when they want it. This dynamic is leading more and more manufacturers to work in an engineer-to-order or make-to-order environment. This puts different types of pressures on the manufacturer to manage inventory, suppliers, and shop floor operational processes. Second, more and more manufacturers are turning to new revenue streams from service offerings. This covers warranty, maintenance agreements as well as aftermarket parts. Third, the number of channels manufacturers are engaging with customers has expanded to include direct sales over phone and via website using e-commerce platforms as well as distribution or partner channels to market.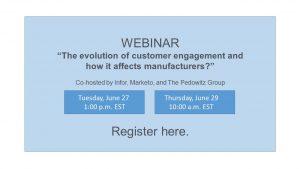 To address the need, manufacturers should engage early and often (with relevance) to quickly understand what a customer wants, how they want it, and how they can collaborate on design and specifications of new orders. Early anticipation of customer needs helps the manufacturer become a trusted adviser, guiding future purchases.
What should manufacturers keep in mind as they evaluate marketing technologies to assist in their communications efforts?
There is no doubt that manufacturers can use the many marketing technologies to better engage with their customers. But before purchasing technology, the manufacturer should start by understanding the four R's of communication: relevance, right message, right channel, right time.
Manufacturers have many communication channels—from their web site, call center, and direct sales force to a catalog or even an app that provides visibility into orders, status, etc. Manufacturers may also have technology that addresses eCommerce, configure-price-quote, marketing automation, and so on that also touch the customer.
To ensure the highest level of quality in your customer engagement, it's important to look at each channel and communication and consider the individual or audience it's intended for, and determine how to make the four R's work in favor of that communication, in addition to ensuring that the messaging is consistent across all channels and audiences. It also needs to be done at scale, and earlier than ever.
If a manufacturer already has CRM/ERP solution, what is the next logical addition to that tech stack?
Many manufacturers consider configure-price-quote (CPQ) solutions integral to assisting in a guided selling process in the make-to-order environment. CPQ solutions aid in the ordering process by showing all available options and recommending add-ons to a deal. It can be used via an e-commerce solution, mobile app, or portal type solution.
CPQ systems provide incredibly rich profile information to a CRM and engagement platform like Marketo and enable the manufacturer's marketing department to develop highly personalized campaigns based on individual products being configured to order. This enhanced level of customer engagement can also help turn that customer into an advocate more quickly.
In addition to increasing sales for the manufacturer, this technology also ensures that there is no disconnect between what the customer has ordered and the manufacturing shop floor. CPQ solutions integrate directly with manufacturer's ERP solutions to that bill of material (BOM) and routing steps are passed directly into the ERP without having to rekey data.
Beyond CPQ, a real-time interaction engine that employs machine learning can also provide significant lift for manufacturers who are able to predict the next best products or logical add-on products. For example, Amazon has shared that 35% of all sales are generated by the recommendations engine, according to
Martech Advisor
. Imagine what even a 5-point improvement could do to your bottom line!
How do these additional marketing technologies help manufacturers personalize products and predict future purchases?
CPQ is all about manufacturers giving both the B2B and B2C customer the ability to personalize their orders and then leverage rich, relevant data that results from these interactions, along with the ability to achieve the four R's described, at scale, which is the fundamental key growth strategy for revenue.
Predicting future purchases requires the help of big data and analytics. As manufacturers start to view trends in orders and as the engineering department creates a new product to introduce, predictions are all part of the requirements a manufacturing company has to be able to manage to satisfy the needs to their customers.
Clearly, leveraging information in this way to its greatest advantage requires that marketing and sales be in alignment from a people, process, and technology point of view.
How can marketing and operations departments best collaborate to create customer value?
Sales, marketing, and manufacturing operations have to work closely together and eliminate any silos that may exist between departments. Integrating the ERP with a CRM system is step one. Integrating the CRM with a marketing automation solution such as Marketo is step two. Having a clear, streamlined data integration strategy is needed to pass new product information into the CRM solution, where customer profile data is stored, then bringing relevant information back into the marketing automation solution enables marketers to deliver relevant messaging to individuals in a timely manner.
When using solutions like CPQ, the selling effort has to be tied in with the operations on the shop floor. Linking the order with the BOM/routing detail is one of the key pieces to ensure operations can deliver on what has been sold. Manufacturing also has to be in synch with the campaigns marketing is running. As you have new product introductions from engineering or a new service offering that customer service wants to promote, these have to be in synch with marketing to drive the demand at the right time.
How can marketers track key KPIs, such as marketing costs, campaign metrics, and immediate results as well as customer lifetime value?
Marketers need to track campaigns and their effectiveness, which may be as simple as tracking the opens, clicks, downloads, and ultimately interest, hand raises, pipeline, and revenue generated from an email campaign. It can also be as complex as tracking multi-touch campaigns that help move a customer along the buyers' journey. Many companies track their buyers' journeys with various marketing techniques, such as online ads, website content, emails, follow up phone calls, etc. Marketing automation solutions enable you to track all of this information.
Marketing focuses on top-line revenue and operations worries about cost. How do both departments focus more on customer value?
Manufacturing has to ensure that they deliver the right product to the right place at the right time at the right price for both the customer, all while maintaining margins. Marketing is also vitally important in driving customers' perceived value. In addition to helping shepherd customers along the buyers' journey, marketing activities help establish communication with customers about new products, new service offerings, and more, building customer lifetime value.
Interested in learning more about the evolution of customer engagement and how it affects manufacturers? We invite you to join us for a webinar and panel discussion, co-hosted by Infor, Marketo, and The Pedowitz Group, on Tuesday, June 27th at 1:00 p.m. EST or Thursday, June 29th at 10:00 a.m. EST to discuss how manufacturers can keep up with the change. Register here.
Let's Connect
Contact us and we'll have a Business Development Representative contact you within 24 business hours