The first step in your digital journey is the hardest, but most important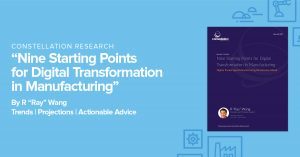 In a recent North America conference of IT professionals in the manufacturing segment, a speaker asked the audience who in the group had a digital plan already in place. Of the 200 attendees, no one raised a hand. A scattering of nervous laughter was the only response. Heads turned left and right, expressions showing relief that their company wasn't the only one lacking a digital plan.
The speaker, though, was so shocked that he repeated the question, sure the audience simply didn't hear or understand. Nope, still no hand raises. Then, the real shocker came. The speaker added that he had asked the same question in Germany and
every
hand in the audience went up. He went on to describe his worldwide travels and observations of what countries are embracing digital strategies and which aren't.
NA manufacturers aren't leading the pack. In fact, it seems, they are often lagging behind their global counterparts.
We can argue about the lack of scientific validity of this survey methodology, debate the relevance of this particular cross section, and hypothesize on factors which may have skewed the response. Possible reasons range from "they were shy" to the "they were all small to mid-sized organizations with overly stretched IT budgets." But, the observation is still reason to worry and ask the big question:
Why are many NA manufacturers simply having a hard time getting started on the digital journey?
In a recently published report, "Nine Starting Points for Digital Transformation in Manufacturing," author R "Ray" Wang writes, "Western economies have faced an onslaught of negative developments in their domestic manufacturing bases over the past 40 years." These hardships, from a shortage of skilled workers to increased global competition, have become a heavy anchor keeping some manufacturers from enthusiastically embracing change and investing in new technologies.
Hardships holding manufacturers back include:
This has to change if American manufacturers want to remain relevant. This era of digitalization is the big chance manufacturers need. "With the rise of Industry 4.0, the current trend of automation and data exchange in manufacturing technologies, manufacturers now have new opportunities to undergo digital transformation. Constellation finds that digital transformation in manufacturing will not only jump start growth, but will also create the environment for a manufacturing renaissance," says the report.
But manufacturers need to engage and move forward, launching plans, taking risks, and building confidence in new data-based revenue models, customer-centric operations, and the elasticity and agility of cloud-deployment.
Where to start?
The Constellation paper provides advice on getting started, including nine entry points for manufacturers to begin their digital transformation journeys. Wang also describes six organizational features present in all successful digital transformations and makes recommendation on setting priorities. "Form (i.e. technologies) must follow function (i.e. business models) in order to create success. Leaders should focus on creating new business models first and then enabling success with supportive disruptive technologies," Wang says.
Digital transformation means manufacturers must engage with stakeholders in order to transform business models and harness the power of disruptive technologies, like contextual analytics, condition-based asset monitoring, robotics, 3D printing, and machine learning. Manufacturers who want to jump start growth and overcome those lingering pressures can do so simply by being open-minded to new concepts, strategic in their approach, and willing to form partnerships—with customers and suppliers—in order to transform business.
Constellation's report says, 61 percent of the Global 2000 manufacturers surveyed expect to benefit from digital transformation. Why, would it not be 100%? Much is being written about use cases, proof of concepts, and proven benefits, and yet skeptics hesitate.
Which are you? The company ready to jumpstart a new era of success or one that is comfortable on the sidelines, watching others transform?
When you are ready to be a change agent and help propel your organization forward, this resource from Constellation provides valuables insights, including six common components of successful digital deployments.
Download it here.
Let's Connect
Contact us and we'll have a Business Development Representative contact you within 24 business hours