The Inforum 2017 experience – what customers like best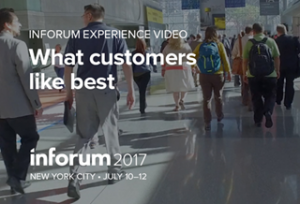 Infor customers talk about what they like best about Inforum
, what keeps them coming back, and what they're looking forward to this year.
Learning at Inforum 2017


Learn about new technology at the Inforum education sessions and from your peers. "We're a very small group where I work and, obviously, there are a lot more people out there who are using this product, so we like to get their opinions, ways they use the product, and try to learn some new things from them, as well."


See the video
.
Let's Connect
Contact us and we'll have a Business Development Representative contact you within 24 business hours