The journey to greater customer engagement - the big picture
It is an exciting time to be in marketing. So much is changing including the marketing technology (MarTech), the buyer's behavior and power, and the demand for marketing accountability for revenue results. And central to addressing these changes is the burgeoning Marketing Operations group. But what does it take to evolve marketing from being product centric to becoming customer centric? To focus on the customer experience over the entire customer journey map? To measure marketing programs based on customer engagement and revenue attribution?
This is the first in a series of blog posts to address these issues. This month we will start with a focus on the big picture – how do you undertake a focus to operationalize customer experience and customer engagement. In the coming months, we will delve into more details on each of the affected areas, including data, organization structure, process, technology, strategy, metrics and campaigns.
Start your journey by choosing a driver
We feel it and hear it all around us. Something is changing in how buyers are choosing to interact with firms, and firms are responding. Using Google's
correlation tool
we can look for the trends in searches for "customer experience" and "marketing operations" over the past 10 years. Not only are the number of searches for these two phrases increasing rapidly, there is a 0.8 correlation.
And then, just to really geek out, you use Google's correlate tool and find there is a 0.8 correlation between these two searched phrases. (That's really good).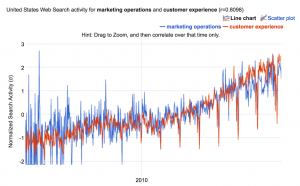 The conclusion I draw from this is that firms are figuring out how to offer better customer experience and that marketing operations is somehow central to their solution. Okay, I admit it, not terribly scientific here, I haven't proven a causal relationship between the two, but these results are actually somewhat intuitive. The fundamental question we must answer is: How can firms operationalize the customer experience? It is all very well to talk about becoming customer centric, turn it into a company-wide initiative, pound our fists on the boardroom table and commit to becoming better at it, but what are the actual steps one can take to operationalize a better customer experience and who will be accountable? The function most ideally suited to operationalizing great customer experience is marketing operations. They have the process skills, the data skills, the technology skills and the planning and reporting know-how.
Essentials for your journey to great customer experience
So, what are the pieces to offering great customer experience? Once we look beyond the veneer of a great user interface on the website, or charming Irish accents for your sales development reps, what things do you have to do?


Start with your 2018 marketing plan. What can be realistically be achieved in 2018, by whom and with what resources.

Define a complete customer journey map (example shown below) and use it as the basis for lead management, content editorial calendar, data architecture, building your MarTech stack, pipeline reporting and even budgeting and planning resources. This puts the customer journey at the center of everything (not the products).

Completely update or replace many processes such as the lead management process and funnel. Does your current funnel and all the associated reporting end with "closed won"? Not very customer centric of you, now is it? The customer probably believes that "closed won" is really the start, not the end of their relationship with you.

Define a MarTech stack that supports your customer data needs and enables you to offer great customer experiences.

Define your data architecture so you have the right customer data in the right platform to make decisions to adapt to changing customer attributes and new behaviors.

Budget for and plan content based on personas and the location of the buyer in the customer journey map. Eliminate any gaps.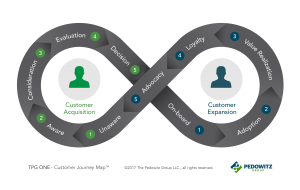 Each month we will address one of these areas and dive into the details of what it means to operationalize customer experience in that area. We will start next month by examining a 2018 marketing plan that has evolution to customer centricity at its core. Feel free to comment below, we'd love to hear from you.
Written by: Kevin Joyce, CMO and VP Strategic Services,
The Pedowitz Group
Let's Connect
Contact us and we'll have a Business Development Representative contact you within 24 business hours