The Need for an Independent Interoperability Layer in Federal Healthcare
I attended a forum recently where several Federal agencies, including the Department of Defense and Veterans Affairs, defined interoperability differently. One presenter defined interoperability as the ability to view patient information from another system at the point of care. Another presenter went further, defining interoperability as utilizing the Direct protocol for information sharing. And yet another presenter defined interoperability as a hard-coded point to point interfaces between two applications. While each definition is, in fact, a form of interoperability, there needs to be an explicit understanding of what is meant by exchanging data with external systems.
Another concern for both the VA and DoD is intra-operability, or how data is shared internally. Veterans Affairs Secretary David Shulkin offered a hopeful solution when he said, "VA's adoption of the same Electronic Health Records system as DoD will ultimately result in all patient data residing in one common system and enable seamless care between the Departments without the manual and electronic exchange and reconciliation of data between two separate systems."
1
One common system would ultimately allow health providers to focus on their mission of providing the best possible patient health outcomes. However, the prospect of one final system has yet to be determined. The VA has spent the last two decades creating a system for the care of our veterans whose minds and bodies have suffered trauma not realized in the commercial healthcare space. It has evolved a truly unique system that cannot be replicated with a vendor's common off the shelf products. For this reason, we should look further at the need for integration of the systems. Many elements of the VistA system will remain intact, forcing Cerner integration with an older legacy environment. The EPIC scheduling system will also remain, forcing direct integration with Cerner's arch nemesis. Hence, the entire intra-operability issue is still up in the air.
The VA, unlike the Genesis system of the DoD, relies heavily on the community-based outpatient clinics (CBOC) and hospitals – not a Cerner strong point. It is now time for the VA and DoD to look at an independent interoperability layer within their system environment, both for intra-operability and interoperability – an agnostic layer that isn't tied to the success or failure of the primary EHR. Neither the VA nor the DoD needs an integration layer whose driving purpose is to market replacement products to existing, fully functional applications simply to allow for easier integration. Rather, they need an application vendor whose core competency is the integration of disparate application environments.
The VA reliance on the CBOC system necessitates ease of sharing of patient data between EMR systems, regardless of where the data originates. The VA needs to be able to seamlessly exchange a complete patient record with hospitals, physicians' clinics, labs, and other providers. These factors require interoperability in heterogeneous EHR Systems for effective care coordination – a system that eliminates the risk with unknown or possibly incompatible solutions.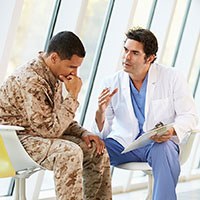 Learn more, download
thought leadership
providing insight into the pivotal role technology can play in addressing this very important issue. Visit
infor.com/publicsector/federal
Jerry Malone, Senior Consultant for Cloverleaf Integration,
Infor
Public Sector
1. Miliard, Mike. "Will Cerner rollout at VA advance interoperability? Maybe. Healthcare IT News. June 8, 2017
Industry
Federal Government
State and Local Government
Let's Connect
Contact us and we'll have a Business Development Representative contact you within 24 business hours