The sustainable positive sum game of educational alliances
By Mark Rodriguez, CEO, Rodriguez Rivera Group

Partnerships between the academic community and industry are regularly portrayed as benevolent and philanthropic in nature. Usually the programs are manifested as real-world student training. These partnerships are often heralded with a feel-good story about a successful student, corporate officer, or university official. Yet, the overall sustainable "business model" of how and why these programs work is not often told.

As a professor and Infor Education Alliance Program (EAP) consultant, I've found the success of these programs, specifically the EAP, are a positive sum game. By this I mean there is a benefit gained for all three parties involved: students, academic institutions, and the commercial or business entity.

So how does this positive sum game thrive at Infor? The answer lies in how the diverse needs of students, academic institutions, and Infor and its partners are addressed.

In my experience, students (and specifically those who are part of the EAP) are highly motivated to seek higher-paying, career-arcing jobs. The cost of a university education has eclipsed inflation rates and income growth rates. Students, on average, face approximately $28,000 in student debt upon graduation. While the immediate financial benefits of a STEM career are often touted, the underpinned narrative of the job market for a STEM career are often missing. Specifically, the cost of living in IT hot spots such as New York City and the San Francisco Bay Area have soared. And, the "pure" academic skill sets alone are not enough to guarantee career and financial success.

Young graduates quickly realize many entry-level IT jobs are outsourced, and competition from people who have taken nontraditional paths to attain similar skills has exploded. Like every job category, technology urges us all forward with the jobs of today obsolete tomorrow, and new categories of jobs emerging. New grads are motivated to immediately add value to their employers, and get on the fast track to management and senior positions. Students actively seek experiences that provide direct industry and business experience for their STEM skill set.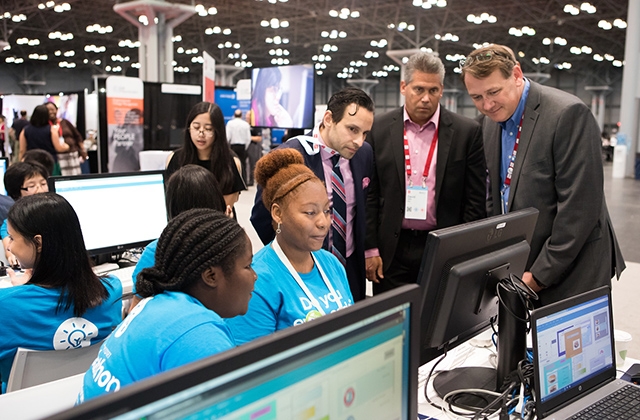 Like students, universities also face competitive forces. Nontraditional programs such as coding boot camps and online courses are providing people with some cutting-edge technical skills. These short-circuit routes are quickly and relatively cheaply providing people with marketable skills that may fill an employer's shorter-term requirement. Universities must market, more than ever, the staying power of their degrees. Thus, academic institutions want to provide their students with relevant career experiences and are devising curricula to interweave faculty, courses, and students with business and industry partners.

The shortage of graduates with adequate STEM skills affects every company that adopts, buys, builds, or sells technology. Even organizations that are not traditional tech companies require people with STEM skills, as technology seeps into every facet of our lives. It's difficult to stand out in this competitive crowd when recruiting highly-sought-after students.

When I look at the Infor EAP, these components stand out: it's not just an army of worker bees, it is an army of entrepreneurs; there is a well-articulated vision, and a defined training component to improve retention of new hires. Infor is cultivating the EAP as an incubator where the next wave of innovation can come from, while building a supply of talent ready to hit the ground running.

Infor EAP is a positive sum game—a thriving ecosystem of students, universities, and potential employers, offering sustainable benefits to all. Ensuring that all the parties can grow, adapt, and innovate makes all participants major stakeholders in this alliance. That's what makes it work and keeps it going.

Get involved with the Infor Education Alliance Program.

Mark Rodriguez is CEO of Rodriguez Rivera Group, an Infor EAP consultant and Infor partner. He serves as an adjunct professor at the City of New York School of Technology (CityTech) in the Infor EAP Center of Excellence specializing in Infor Mongoose technology, and was a mentor and judge for the recent Infor EAP Code-a-Widget Mongoose Hackathon during Inforum.
Filed Under
Education & Transformation Services
Let's Connect
Contact us and we'll have a Business Development Representative contact you within 24 business hours