Think employing hospitality staff is expensive? Look at cost of recruiting the wrong staff
Finding and retaining skilled staff continues to be one of the greatest challenges faced by the hospitality industry. And paying above the national living wage is not necessarily enough to attract the right calibre of staff.
Star Pubs & Bars in the UK is investing thousands
in training academies and chef consultancies for over 100 locations this year. But not everyone can invest $100,000 a year to retain staff. Once you've secured your superstar chef or fabulous floor manager, how do you ensure they don't get headhunted next year?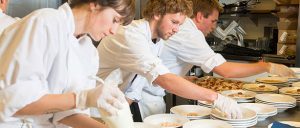 Perhaps you've considered a dating agency approach. Recruitment firms and websites like LinkedIn typically use basic matching keyword criteria to help sift through thousands of potential candidates and completely exclude those that don't contain every attribute you should consider. With this approach, you never have a shortage of applicants for open positions. But voluntary turnover in the hospitality industry is near 60% per year. That means you're spending a significant amount of time and resources screening applicants and training employees who will not be long-term contributors to your brand.
This kind of turnover can affect you in two ways:


Loss of productivity—If your HR group is constantly funneling new applicants through the hiring process, it has less time to spend on strategic tasks, such as managing the career paths of your most-talented and valuable employees.

Negative customer experience—When you're not filling critical positions with the right people, it often has a negative impact on the customer experience, which can create a snowball effect of bad sentiment and poor online reviews.

Many organizations are now taking a next-generation scientific approach to recruitment and on-boarding through the use of talent science software. By identifying the micro-attributes a specific chain or brand requires and developing the data sets to recognize a prospective employee who meets those requirements, the results can be spectacular.
For example, what if you could build customized profiles of your employee roles, and use that data to shrink your applicant pool to only those individuals who have the right characteristics for success?
HR would be able to spend less time wading through endless applications, which would help increase their productivity overall, and employees would be better positioned to stay longer and flourish in their roles—increasing the likelihood that they'll deliver on your brand promise to customers.
An analysis of hospitality companies using
Infor Talent Science
shows they've achieved significant increases in retention, reduced voluntary turnover, and improved employee performance—resulting in higher revenue. And this doesn't take into account the hidden costs of turnover, which can reach as high as 2x the annual salary of each lost employee.
For one hospitality organization
, this translated to
a 39% reduction in turnover
by not wasting time recruiting staff members who are likely to move on within 6 months.
Check out this infographic
to learn more ways you can find the balance between service and cost for your organization.
Let's Connect
Contact us and we'll have a Business Development Representative contact you within 24 business hours