Tips to developing meaningful Marketing metrics
It's simple, if you aren't tracking the right marketing metrics, you aren't going get the C-suite support you need. Gone are the days when marketing metrics aren't directly tied to the overall business strategies and goals. In order to be successful, marketers need to align their metrics to confidently show an impact that meets the business objectives.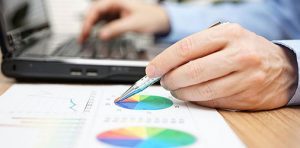 What are the 'right' metrics?
Every business has their own set of metrics to measure success driven from the top down. The important thing is to harness those metrics to provide insight into success of marketing efforts. It's critical that your metrics resonate with the CEO, CFO, and your sales team. Sounds like a tall order? Well, you're right. But here are a few things you can consider to get started.
Define your KPIs
Key Performance Indicators (KPI) is a measurable value that demonstrates how effectively a company is achieving key business objectives. Your marketing KPIs should be tightly aligned with company strategic goals and objectives and approved by your C-level team. Here are some tips to defining a meaningful set of KPIs.


The KPIs you choose to measure should have data that can be easily obtained and tracked so you can report on progress.

KPIs should keep everyone on the same page and moving in the same direction – again, align with corporate goals.

The data flowing into the KPI should be reliable and accurate.

Your KPI should give insight into the business that is actionable.

Conversion metrics
Conversion metrics are measured by the percentage of people who take a desired action. For example, how many new leads did a campaign acquire? How many new customers and how much sales revenue did a campaign create? How many people downloaded an asset? How many people attended an event? All these metrics can show a count that you can track back to a KPI.
Soft metrics
Soft metrics such as impressions, page views, and SEO rankings are not easily tracked back to a defined customer acquisition or revenue metric, but they are still important as these types of metrics can help to derive insights into planned tactics for campaigns and brand awareness.
Types of marketing metrics
There are a wide variety of marketing metrics you can track. Below are a couple that you can think about as you start to define which will be meaningful and most effective for your business.
Return on Marketing Investment (ROMI)
- Track marketing campaigns that generate new customers or revenue.
Sales leads
- Measure how many leads your marketing campaigns are generating. This marketing metrics can add real value to the relationship between marketing and sales for your organization.
Lead Score
- This metric measures the quality of an inbound lead based on predetermined criteria and targets. Lead score takes into account lead behavior, activity, and demographics.
Cost Per Lead
- Track the number of leads generated from a campaign against each dollar spent on that campaign.
Lead Funnel
- Analyze how your lead moves through a campaign from one step to the next. Track conversion rates from each stage of the funnel.
Social
- Track number of followers, engagements and visits.
SEO Traffic
- Measure the number of visits to your website from organic or paid search traffic.
These are just a few, but I think are a good starting off point to help you gain the insights you need to elevate your marketing effectiveness and gain a positive impact on your company's overall strategies and goals.
Written by: Sherri Kolomayz, Digital Campaign Manager, Infor
Let's Connect
Contact us and we'll have a Business Development Representative contact you within 24 business hours