Tips to speed your sales cycle
It's easy to get wrapped up in all things marketing – how do you attract a customer? What is the message? How do we keep them engaged? What is our multi-channel strategy? What does the customer journey look like? But we can't forget that the goal is ultimately for the journey to end with a sale. While customer engagement can contribute to a successful customer journey, the kind of engagement that matters is the kind that increases the speed and probability of a sale.

How do you move seamlessly from the marketing phase to the sales process? Here are a few tips that will help speed the sales cycle over the finish line.

Shorten the distance from engagement to conversion

Get complete and accurate decision making information as rapidly as possible. One reason for the popularity of online shopping is that it gives customers rapid access to key buying information, including price, features, and other customers' opinions, through highly responsive software.

Generate prompt, error-free quotes

The quoting process requires you to gather information from multiple sources, calculating prices and quantities, with options and parts, and considering multiple details. If you have to handle that process manually, there's no way to avoid delays. But when you have an automated process, quoting requires less work and happens faster.

Show, don't tell

People believe what they see. Helping a customer visualize and develop an attachment to the image or technology driven process will push them to quicker decisions. Customers end up persuading themselves because they like what they see. Images help to produce a sense of ownership that tends to lead to a faster sale and long-term customer loyalty.

Streamline contract development

Drafting a contract is a complex process that can take up a lot of time and energy that might be better spent executing on the deal itself. Nothing holds up a final sale more than red tape and endless amendments. Automate the execution, creation, negotiation and management of contracts.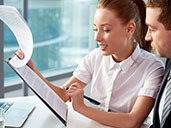 Give your sales reps an enormous competitive advantage and a quicker path from engagement to conversion in your customer's journey. Check out how technology can help.


Product
CloudSuite Automotive
Infor CPQ
Region
Let's Connect
Contact us and we'll have a Business Development Representative contact you within 24 business hours