Top 10 Infor things to be excited about in 2019
By Todd Stratton, Infor VP of Product Management

So many new things to be excited about in Infor CloudSuite Financials & Supply Management this year. I compiled a list of my now-famous Top 10, which I shared with customers at Infor Winter Showcase in St. Paul recently.
Last week, I gave a progress report on my 2018 Top 10 list.
Now here are my Top 10 Infor things to be excited about in 2019:
#10 – New Infor Expense Management capabilities
Online travel booking – became generally available (GA) in August 2018
Native mobile application – Controlled availability (CA) September 2018
Birst Operational Reporting & Analytics – CA in March
Optical character recognition – CA in June
#9 – New Infor Inventory Intelligence solution
Embedded in Infor CloudSuite Financials and Supply Management v11 (already integrated to v10)
New role: inventory intelligence specialist
Provides recommendations for inventory optimization
Review recommendations and make updates immediately
Healthcare, public sector, hospitality and other use cases
#8 – Talent innovations
Acquisition

Candidate area redesign
User efficiency and effectiveness
Configurable hiring workflows, unique workflows
Alerts and routing speed up the process
Intelligent interview scheduling
Candidate engagement: building your own talent community
Mobile from apply to hire
Continuous Performance
Maximize future performance and engagement through coaching and development
Facilitates frequent, lightweight "check-in" conversations between employees and managers to improve performance and engagement
Engagement and pulse surveys track engagement
#7 – Infor Workforce Management innovations
Employee Shift Billboard - Post shifts for replacement worker via mobile – April
Staffing Center – November
- Centralized nurse scheduling
- Float pool management
- Daily shift management for nurses
Labor Forecasting – November
- Machine learning forecasting algorithms
- Mass editing across locations
#6 – New last-mile functionality for industry

#5 – Testing as a Service (TaaS)
Crowd source customer testing scenarios
- New products – not 1000's of customers banging on yet
- Can't develop every business test scenario
Common automated test platform
- We deliver our test scripts as a seed
- Customers can tweak or record new
- Make sure your scenarios are covered
Add your flavor to our testing
Send back to Infor
Customers can test on their end too
#4 – Services industries mobility
Optimized Web app for select HCM roles – available now

Optimized Web app for select FSM roles – now through August
Infor Go – Native mobile app that provides centralized access for Infor and proprietary apps with single sign-on – coming in September
#3 – Next-gen Infor Payroll
New Payroll module for v11 GHR
- Not a new version of v10 Payroll; new embedded module in Global HR
- Two beta projects in progress
Global Payroll partnership with ADP
- Working with customer
- Developing productized integrations for future global payroll opportunities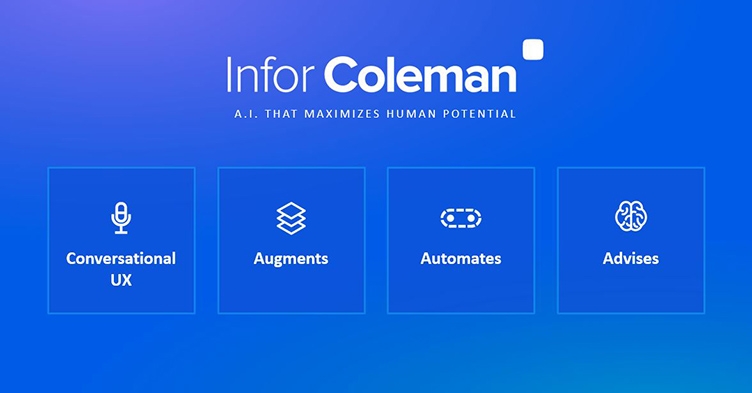 Use Infor Coleman AI to automate repetitive processes and tasks
- Cash reconciliation
- Determining cash position
- Payables accrual reconciliation
- Receivables accrual reconciliation
Distribute the work across the accounting period
Minimize screen hopping and clicks
Science-powered data to identify opportunities for improvement
#1 – Plan your Infor CloudSuite Financials & Supply Management v11 upgrade
Infor CloudSuite Financials has been available for more than 2 years.
Customers in all services industries
650 new features never in v9 or v10
15 references; customers speaking about the product
Large orgs moving forward — CHRISTUS, Yale New Haven, Montefiore, Koch, Hillsborough Public Schools, city of St Paul — These organizations have done your due diligence for you.
Clearly, 2019 is going to be an exciting year. To learn more, please reach out to me, or your Infor account manager or Infor partner.

Filed Under
Events
Financials
Supply Chain
Technology
Industry
Banking and Financial Services
Financials
Healthcare
Public Sector
State and Local Government
Product
CloudSuite
CloudSuite Financials
Coleman Artificial Intelligence
Region
Let's Connect
Contact us and we'll have a Business Development Representative contact you within 24 business hours