Top 5 reasons to attend Inforum
You've got plenty of good reasons to attend Inforum 2019 on Sept 23-26 in New Orleans. Here are our top 5:
Reason #1—Choose from 750+ sessions
The latest technology that will change the way you work comes to life at Inforum—from analytics to e-commerce, social collaboration to system integration, talent science to the Internet of Things, cloud-based solution suites to custom application development.
In-depth product education sessions, hands-on Academies, industry outlooks, and 20-minute Speed Sessions, all focused on specific products and industries—you've got more than 750 sessions to choose from, delivered in various formats to suit your learning style. You create the curriculum that's right for you. See all the educational opportunities.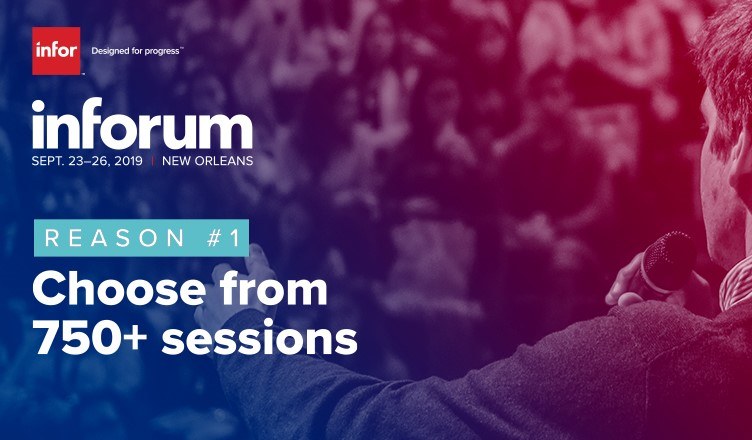 Reason #2—Get hands-on with Infor products

Test-drive products, and participate in demos and Speed Sessions at The Hub. You can also kick-start your Inforum experience with Infor Education's "Expert Insights" sessions. Tap into the wealth of knowledge our product experts have gained from years of experience working with customers in the field. Bring your burning questions and discover creative solutions to problems and innovative ways to optimize the way you work. See the Expert Insights schedule.
Reason #3—Be inspired
Our guest speakers at Inforum have become a fan favorite for all attendees. During the General Session, former astronaut, physician, educator, and 100 Year Starship leader Dr. Mae C. Jemison will be speaking on the main stage. And, in our special guest speaker session, we welcome Martha Stewart, entrepreneur, bestselling author of 94 lifestyle books, Emmy Award-winning television show host, and founder of the first multi-channel lifestyle company, Martha Stewart Living Omnimedia.
At the General Session and in numerous education sessions, our great customers will share their success stories of improving their operations, their people, and their bottom lines with Infor solutions. Third-party experts and Infor's awesome partners, too, are likely to dazzle you with possibilities.
Reason #4—Share in Infor's vision
Kicking off the day's event at Tuesday and Wednesday's General Sessions, Infor CEO Kevin Samuelson and the Executive Leadership Team will address Infor's strategic roadmap, showcase our latest innovations, unveil major product announcements, and give you a preview of the future.
Reason #5—Network and connect
The Hub is where all of Inforum converges, connects, and intersects. Here you can connect with Infor's sponsors and exhibitors, learn from software and product experts, explore innovation, and participate in structured and free-flowing activities and discussions.
Reason #Bonus—Have a little fun
Wednesday evening's customer appreciation concert will be headlined by a celebrated Grammy-winning, Hot 100-chart-topping singer, songwriter, producer, and musician. See who will be performing. This one should be on your bucket list.
Plus, it's called The Big Easy for a reason. Unending distractions await—from Bourbon Street fun to steamboat cruises and old world architecture to Bohemian charm and century-old restaurants.
So, for all these reasons—and dozens more—register now. Then pack your bags, and join us in New Orleans for Inforum 2019. It's going be good.
Let's Connect
Contact us and we'll have a Business Development Representative contact you within 24 business hours