TPM: How is it different from all those other acronyms?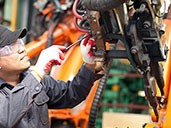 In the alphabet soup of maintenance acronyms, TPM is the flavor of the day. But it's not a fleeting fad. And it's being used to boost maintenance productivity at some of the world's most innovative organizations, from manufacturing to construction to transportation.
Where did TPM come from, and why?
Total productive maintenance, or TPM, isn't new. The concept was developed in the 1960s in Japan as an offshoot of Total Quality Management (TQM), which uses
statistical analysis and the resulting data to control quality during manufacturing
.
TQM's quality control concepts didn't translate that well to maintenance, though. Equipment maintenance schedules were set up using preventive maintenance techniques, but the result was often over-servicing of machines. Why? Because the TQM mindset held that more maintenance should equal better results. Manufacturers' maintenance intervals were adhered to religiously instead of taking into account the specific condition and environmental factors of the equipment in question. The machine operator did exactly what the job title implied--operated the machine--but had no involvement in maintaining it. Training consisted of whatever existed in the manufacturer's maintenance manual--typically not very in-depth.
It soon became clear that improving productivity and product quality would require going beyond the maintenance manual. The original TQM concepts were modified to recognize the maintenance department's unique role and bring it into the inner realm of the overall quality program--an equal participant with its own set of rules for contributing to quality. Thus, TPM was born.
What exactly does it do?
Total productive maintenance strives to contribute to the overall goal of perfect production by eliminating equipment breakdowns, stops, and defects as well as accidents in the workplace. Its emphasis is on proactive and preventive maintenance to optimize equipment efficiency. It empowers machine operators to take ownership of their equipment by giving them responsibility for some maintenance activities.
TPM has its own
eight foundational pillars
, but does share some concepts with TQM: there must be buy-in and support from upper management; there must be employee involvement in taking corrective action; there must be a long-range commitment to the process. Changing employee mindsets about being involved in the day-to-day maintenance of the machinery they operate may not be a speedy undertaking.
Why should I consider a TPM initiative?
The results of transforming your maintenance operations with TPM can be staggering. Jack Roberts, Ph.D, Department of Industrial and Engineering Technology at Texas A&M,
wrote
:
"Ford, Eastman Kodak, Dana Corp., Allen Bradley, Harley Davidson; these are just a few of the companies that have implemented TPM successfully. All report an increase in productivity using TPM.
"Kodak reported that a $5 million investment resulted in a $16 million increase in profits which could be traced and directly contributed to implementing a TPM program. One appliance manufacturer reported the time required for die changes on a forming press went from several hours down to twenty minutes! This is the same as having two or three additional million dollar machines available for use on a daily basis without having to buy or lease them.
"Texas Instruments reported increased production figures of up to 80% in some areas. Almost all the above-named companies reported 50% or greater reduction in down time, reduced spare parts inventory, and increased on-time deliveries. The need for out-sourcing part or all of a product line was greatly reduced in many cases."
To learn more about the eight pillars of TPM and the role played by the Industrial Internet of Things (IIoT),
read this article
by Infor's Kevin Price.
Product
CloudSuite Distribution Enterprise
CloudSuite Facilities Management
Infor EAM
Region
Let's Connect
Contact us and we'll have a Business Development Representative contact you within 24 business hours