UK automakers move from record-breaking 2016 to uncertainty-filled 2017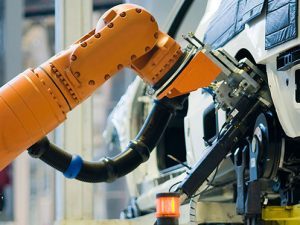 Like their
US peers
, UK automakers are bracing for an uncertain year ahead after enjoying a record-breaking 2016.
Last week, the Society of Motor Manufacturers and Traders (SMMT) reported that
UK automakers built 1.7 million cars in 2016
, representing an 8.5% increase over 2015 and the highest output in 17 years.
Despite this increase, UK automakers are signaling their concerns surrounding the uncertain business environment.
In
a recent interview with The Guardian
,
Mike Hawes, chief executive of the SMMT, noted that British carmakers decreased their committed investments by more than one-third in 2016 compared to 2015, from £2.5B to £1.66B.
He noted the uncertainty surrounding Brexit and what that would mean for automakers was largely to blame for this decreased investment.
The shift away from a global approach to trade and business is concerning for many UK manufacturers, particularly after
the recent speech from Prime Minister Theresa May
where she noted that, if a negotiated exit from the EU could not be reached, the alternative will be a default to using the higher tariffs as required per World Trade Organization (WTO) rules.
Car makers estimate the WTO rules will impose a 10% tariff on new vehicles, resulting in a £1,500 price increase to every car sold in the UK.
However, Garel Rhys, emeritus professor of motor industry economics and director for automotive industry research at the Cardiff Business School, noted in a November
Detroit News article
that he thinks British automakers will be able to easily withstand increased tariffs due to the manufacturers' exceptionally high efficiency rates — particularly over its European neighbors.
Rhys also said he didn't think Brexit would make much difference for Britain's automotive industry, but he did say a decision by Nissan to move would have been disastrous for the northeast region where its factory is situated.
Carlos Ghosn, chairman and CEO of Nissan, recently said
the company's UK investment would be revaluated if the WTO rules were put in place
. This statement comes after
Nissan announced plans to build more models and add jobs at its UK
manufacturing operations in October.
A lot can change in just a few months, underscoring the point that uncertainty is one of the only things automakers in both the UK (and US) can count on right now.
Let's Connect
Contact us and we'll have a Business Development Representative contact you within 24 business hours