User Adoption in the Cloud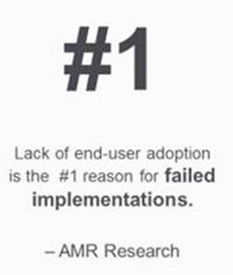 According to AMR Research, the number one reason for failed software implementations is a lack of user adoption. But what is user adoption and why is it so important? In simple terms, user adoption refers to the level of an employee's acceptance in embracing and engaging with a new business tool, process or job change. Users accept these types of changes when they become fully integrated into a daily routine. User adoption then is one of the key components to business value realization and increased ROI.
So, what does a successful user adoption strategy look like? One important component is end-user training. In a society where "there's an app for that" is synonymous with quick problem-solving, there is a desire for self-directed, highly accessible and instantly applicable information. Think Netflix. The ability to subscribe to a library of assets and be able to pick what you want, when you want it raises our expectations for on-demand consumption of information.
Business products and services are therefore evolving in the same way consumers experience them at home and in their daily lives. For training that means a shift to a continuous engagement, rather than a one-off experience. While formal training still has its place as a part of a blended learning solution, including self-paced options from an available content library. The training focus is transformed into performance support, with learning assets available at the point of need and giving the workforce a possibility to learn on-the-job at their own pace.
A great tool to enable tailored performance support is Infor User Adoption Platform (UAP). Infor UAP empowers authors to record keystrokes to instantly create custom content that directly reflects how to navigate your organization's business processes and procedures. Everything you create can be made available as context-sensitive help with Ming.le Smart Help within your Infor applications. And the best part—its cloud-based. This enables users to learn as they face work challenges to which they require additional confidence and competence to perform a specific action, at the point of need.
Filed Under
Education & Transformation Services
Product
Region
Worldwide
EMEA
North America
APAC
LATAM
Let's Connect
Contact us and we'll have a Business Development Representative contact you within 24 business hours