Vehicle-to-vehicle tech passes regulatory hurdle
On Tuesday, Dec 13, the US National Highway Transportation and Safety Administration proposed new rules
requiring automakers to adopt cra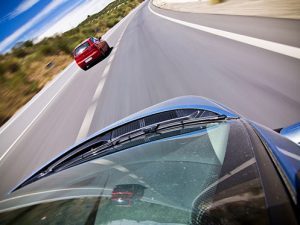 sh-avoidance technology that allows all new vehicles to communicate with each other
. Many laud this move toward vehicle-to-vehicle (V2V) communication as
a huge step toward improved driver safety
.
With V2V communication, the car, itself, will be aware of potential hazards without any driver intervention. The vehicle will be able to make decisions with information from its tires, windshield wipers, brakes, and other systems combined with information it receives and synthesizes from cars around it.
While this real-time, machine-based crowd-sourcing is expected to provide the best safety outcomes for drivers, what does this mean for automotive manufacturers and suppliers?
Here are three things to start thinking about as V2V technology makes its way to the innovation foreground.


Identify your "sizzle." There is a saying attributed to early sales pioneer Elmer Wheeler at a sales training he gave back in 1947, "Don't sell the steak, sell the sizzle." Decades later, this advice is still appropriate.Maybe you manufacture gaskets or brake lines, but so do other suppliers. How do you avoid falling into the commoditization trap and continue to differentiate what you sell? Focus on the outcome of what you sell as opposed to just the product itself. In the new world of V2V communications, how do your products help make the driving experience safer? Even gaskets have a role to play in that story. Make sure you build it, and tell it.



Assess your supplier relationships. V2V communication requires a lot of high-technology expertise—both hardware and software. If you don't have the needed high-tech expertise in house, establish the relationships you need with those companies and manufacturers that do have that knowledge. Even if you have plans to build your software- or hardware-related high-tech capabilities, building relationships with those that have the expertise now can help you fill in gaps while you develop your capabilities, and even augment them after you've built your own skills.



Get your business software ready. Make sure your business software and infrastructure is ready to help you efficiently execute everything you need to get done. Is it easy for you to integrate new suppliers into your financial, inventory, and supply chain systems? Do you have the customer relationship management (CRM) systems in place to help your sales people share your story with people who maybe haven't heard it before, or heard it told in this new way?Check out Infor's Guide to Automotive Manufacturing Software to help you determine what software capabilities you need to add or upgrade.

Let's Connect
Contact us and we'll have a Business Development Representative contact you within 24 business hours