Webinar recap: 17 predictions for manufacturing in 2017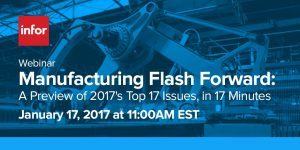 Industry Week recently held a webinar, sponsored by Infor, titled "
Manufacturing Flash Forward: 17 predictions for 2017 in 17 minutes
." We think you will find the topic and 17 predictions highly engaging, no matter where your organization may be in its ongoing IT journey.
Here is a look at the 17 predictions, organized by the presenters who shared them.
Brian Raymond, National Association of Manufacturers (NAM) director of innovation policy,
set the stage by summarizing some of the new technologies hitting manufacturing and the positive benefits, such as:


67% of manufacturers have experienced an increase in shop floor productivity.

More than 1/3 of manufacturers plan to expand into different markets and product lines.

1 of 2 manufacturers say they plan to pursue new business models and revenue streams.

60% have been able to speed time-to-market and improve the development process.

67% of manufacturers plan to use technology to differentiate products and service offerings.

2/3 see an improved long-term outlook.

These lead to Raymond's first three predictions:
1. This is manufacturing's moment.
2. Technology will continue to disrupt manufacturing.
3. The innovation infrastructure will be a priority.

Raymond then turned to some of the challenges facing manufacturers with predictions about the impact of those issues and types of actions we can expect to see. Raymond added details about the role of governments, globally, in creating and enforcing laws to protect trade secrets, defend rights to intellectual property, and reduce the burden of abusive patent lawsuits.
4. Cyber security will continue to dominate as an issue.
5. The protection of intellectual property will continue to be a priority.
Raymond then spoke extensively about the next prediction and why he feels that partnerships will prove vital for growth in manufacturing as public and private sectors must come together to face some of the monumental challenges, such as cyber security and a reliable global supply chain.
6. Public and private partnerships will support growth.Lee Hopley, chief economist with EEF, the voice of manufacturing in the UK.,
talked about the global economy and the potential impact on manufacturers as they ride out waves of volatility. She referenced Brexit, the resolution for Britain to leave the European Union, and the potential impact on the value of sterling, arriving at these predictions:
7. Brexit won't trigger an investment collapse.
8. Sterling will remain competitive for UK exporters.
9. Global trade growth will be less than supportive.
10. Manufacturers will continue their 4IR (Fourth Industrial Revolution) journey.
11. Growth won't be the story for all UK industry sectors
(with transportation, food & beverage, textiles, and pharmaceuticals being the biggest gainers)
.
Although she acknowledged that uncertainty may cause some hesitation,Hopley reported that "over three-fifths of manufacturers surveyed are not delaying investment as a consequence of Brexit uncertainty."
Other data points Hopley's shared:


53% of manufacturers identified weaker Sterling as a business opportunity after the (Brexit) referendum.

86% of manufacturers see potential business risks from exchange rate volatility in 2017, up from 45% in 2016.

Only 11% of companies think the UK is geared up to take advantage of 4IR.

EEF forecasts a modest 0.2% contraction in UK manufacturing output in 2017 after a 0.2% gain in 2016.

Mark Humphlett, Infor senior director of industry & product strategy
, turned to predictions around the role of technology in the coming year. His first two predictions focused on existing trends that he foresees escalating, including adoption of cloud deployment and more and more manufacturers accelerating their Internet of Things initiatives and turning to service offering for new revenue streams.
12. Manufacturers will stop incubating and start accelerating on servitization.
13. Cloud adoption will continue.
For his next prediction on supply chain visibility, Humphlett discussed the importance of connectivity through the global supply chain, citing that at least 80% of the data needed to run an organization exists outside the four walls of the plant. He predicts this will be the year when the vision for a completely connected supply will be achieved by more manufacturers, as the use of smart sensors and IoT technology becomes affordable and mainstream, rather than just pilot projects for enterprise-size organizations.
14. Supply chain visibility will become real.
15. Manufacturing talent will become more tech-savvy and more-sought after.
Humphlett cited some stats about the critical skill gaps and influencing factors, such as:


78 million manufacturing workers will retire in the next 10 years.

Approximately 1 in 3 US manufacturing workers was born in the millennial generation.

82% of manufacturers say the skills gap will affect their ability to meet customer demand.

He also explained that solutions to manage talent science will help manufacturers overcome these issues by helping them to recruit and retain right-skilled personnel.
16. Digital transformation will increasingly be used for differentiation instead of improving operational efficiency.

This prediction deals with the important topic of digitalization, and how manufacturers will leverage the technology to differentiate themselves from the competition, not just to make gains in productivity. In the early stages of digitalization, manufacturers focused on automation and "digitizing a process or experience to make it more effective and impactful for the connected-business age," Humphlett said. He also predicted manufacturers will start rethinking business processes and creating new data-driven ways to deliver an elevated experience, service, or product. "The goal is differentiation, not just automation," he added.
17. CIOs will become chief experience officers.

Humphlett's last prediction dealt with the increasingly important role CIOs will play as manufacturers strive to improve the user experience for both personnel and customers. Both groups will benefit from the improved ease of access to data, the ability to collaborate, tools for product configurations, and improved visibility to the status of orders, inventory, resources, and deliveries. Improving the experience for the manufacturer's workforce will help retain skilled workers and help them do their job with greater ease. Improving the customer experience will lead to greater loyalty and continued purchases.
For more information, you can:

Let's Connect
Contact us and we'll have a Business Development Representative contact you within 24 business hours