Webinar | Thu, September 14th@ 8am PT / 11am ET | Reliability based maintenance: a road map for optimal asset management
Improving your asset management strategy isn't all about increasing maintenance. Often, it's more about shifting priorities.
Asset-intensive organizations spend a lot of time on maintenance, and it can be either a reactive, intrusive activity or a key process embedded within normal operations. What makes the difference is whether maintenance is optimized to focus the right amount of attention on the right assets at the right time—and that starts with understanding the criticality of each asset through the concept of reliability based maintenance (RBM).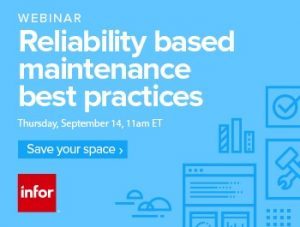 Register for the webinar: "Reliability Based Maintenance Best Practices"
Robert F. Ford, CMRP, RBM program manager at GE Power Generation Services, speaking in
Plant Services
magazine,
said
: "Sometimes, we were over-maintaining nonessential assets. We had to shift the current strategy to spend less time working on nonessential assets and make sure we did the right maintenance on the most critical plant assets."
RBM helps maintenance organizations focus on the right things: developing and implementing systems, structures, processes and practices that maximize asset uptime at the most cost-effective level. Everything including design, construction, commissioning, operation, maintenance, and replacement of every asset is done with the goal of optimizing its reliability. Once assets are inventoried and ranked by criticality, the appropriate maintenance plan is put in place so that resources are committed where they will have the greatest positive impact.
Infor and Genesis Solutions are partnering to present "Reliability Based Maintenance Best Practices"—a webinar that will delve into the six steps in the RBM process:


Master asset list development

Asset criticality ranking

Proactive maintenance optimization

Spare part analysis

Reliability analytics monitoring

Root cause analysis

As GE Power's Ford told
Plant Services
: "In the absence of standards you get poor quality. Our maintenance standardization efforts for our critical assets allowed us to be consistent across the fleet to better serve our customers and best protect their assets against premature failure."
Register for the webinar
to learn how RBM can be the starting point for optimizing efficiency in your maintenance organization.
Let's Connect
Contact us and we'll have a Business Development Representative contact you within 24 business hours