What do MY customers want?
5
tips for delivering a tailored customer journey
During a recent American Marketing Association webcast, "Are you talking to me?", two marketing and industry experts explored this topic in depth.
Chip Coyle
, Infor CMO, and
Lisa Nirell
, chief energy officer at Energize Growth, outlined how the shift to customer journey modeling—rather than a focus on singular metric-driven touchpoints—affects every marketing function and can drive significant revenue growth.
The concept of a customer journey—that is the series of touchpoints a customer has with a brand from initial consideration and engagement all the way to repeat transactions—is not new. It's something that successful B2C brands have mastered. For example, Amazon.com offers a great customer experience; its growth as an online merchant is phenomenal, and it is recognized as one of
the top 10 brands
in the world.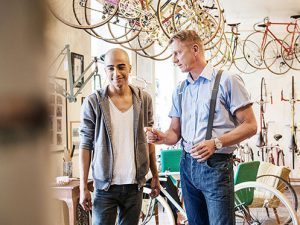 But there's more to providing a great customer experience than just great touchpoints. The key is to provide a great end-to-end experience.
Case studies
reveal that integrated customer journeys provide a competitive advantage, in some cases doubling sales year over year
. Why? Because customers understand companies through end-to-end experiences, not touchpoints. Research has shown that customers are 5.2 times more likely to purchase from companies that provide a great customer experience.
With these market dynamics in play, how should marketers approach creating a productive customer journey?


Think science before art. In an ocean of data, the challenge most companies need to address is siloed data—data that is locked in functional areas and not accessible to everyone who needs it. You'll need the right tools to pull together relevant customer information from a variety of internal and external sources to get a full view. Once you have that information, you'll need to gain actionable insights from it. Advanced analytics tools can help here.

That said, it's just as important to observe customers live and gather qualitative insights into their behavior with your brand. When you attend conferences or events, take a look around you. What questions are people asking? What's topical? In that recent AMA webcast, Energize Growth's Nirell reminded the audience that "face-to-face, empathic conversations with your customers help uncover the unspoken message. This is especially true because 90% of communication is nonverbal. One of the greatest skills a marketer can learn is how to conduct in-depth customer interviews that delve into their emotional experiences." Add those insights to your data considerations.


Get personal. Customers today want more than a personalized experience. They want a personal experience. What does this mean? It's no longer enough to engage your customers in a general "Dear Mary" manner. Your customers want you to say their name and know them—their preferences, past content, and product consumption—and then be able to offer possibilities for their next engagement.



Be "always on." Customers want to buy at their own pace and on their own terms. They consume information while researching and evaluating potential offerings, and start engaging with a company when they are ready to buy. The marketer's role is to guide them through the buying journey, nurture them, and ultimately compel them to buy. This is not a start/stop campaign in a traditional model, since the goal is to have new contacts coming into the top of the funnel continuously.



Map to the customer's journey. A modern technology platform can support the customer journey and provide the right insights for marketers. The platform needs to have multiple capabilities, specifically around delivering personal experiences at scale. The platform should be something your marketing team wants to use everywhere (on the go, and in the office) and something that allows them to work collaboratively.



Tool up. Invest in the technology that can help you. Engage with customer experience specialists, colleagues, and peers to figure out what your company really needs. Keep in mind these three points: be smart about what your customers want; connect with them at the right time, with the right message, and in the right place; and integrate all touchpoints for a holistic experience across the customer journey.

Forget about "business as usual." You need to differentiate yourself in the market with a distinctive, integrated customer journey. When you delight your customers at every step by mastering the integrated customer journey concept, you can reap the rewards for your brand, and create long-term business value.
Let's keep the conversation going. Tell us where you are on your customer journey by tweeting
@informarketing
using #mycustomerjourney.
Interested in learning more about how you can start thinking about the customer journey? For more information on creating a tailored customer journey, please visit
www.infor.com/cx
.
Looking for ways to dramatically improve customer loyalty and spend in 2017? Be sure to download these:
• Customer experience videos and infographics
Let's Connect
Contact us and we'll have a Business Development Representative contact you within 24 business hours