What makes a building "smart?"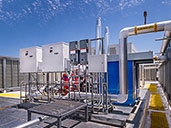 Whether the building or facility you manage is small or large, chances are it has more connection points now than ever before. That's a good thing—it means you're on your way to establishing a Smart Building.
What exactly is a Smart Building? It's one in which the essential equipment and assets, like air handlers, chillers, boilers, lighting, etc. can communicate machine-to-machine and there's an elaborate management system in place to control and optimize all the pieces.
Smart Buildings, which are one of the eight Smart principles behind
Smart Cities
, are expected to
make up 7% of the total global smart city market in 2025.
Smart Cities, cities that monitor the conditions of all critical infrastructure, including bridges, streets, water, electric systems, and more, are on the rise, as well. Frost & Sullivan estimates that
by 2025, there will be more than 26 of them worldwide
.
Putting the smarts in a building
The goal of a
Smart Building
is to deliver useful services that help make occupants more productive and safe, at the lowest cost and with the least environmental impact. A Smart Building optimizes and minimizes energy usage, and can operate using clean energy sources. It makes occupant security and quality of life top priorities. This means not just physical security, such as connected fire suppression and alarm systems, but also health security— high-quality air and water, and more.
The equipment and systems in a Smart Building need to be connected and able to communicate, machine to machine. For example, a building's chiller could receive weather data from outside and occupancy information from inside, so it operates only when needed to maintain the optimal temperature for its occupants.
What makes all this work? The availability of small, sophisticated, affordable sensors connected via the Internet of Things (IoT), and EAM software that analyzes and uses the data generated by these sensors to manage and optimize operations. You can use the data generated by Smart Building systems to monitor performance, track the physical location of assets, detect potential operating issues, and improve preventive maintenance efforts.
To do all that, you need an EAM system with built-in sophisticated analytics capabilities so you can reap the benefits of real-time visibility and insight. With the right EAM system in place—one like Infor CloudSuite Facilities Management—you can gain visibility into the operations of your equipment, so you can you create greater operational agility and flexibility while reducing costs.
For more on this topic, read "
IoT and EAM: Putting the Smart in buildings
" in
Facilitiesnet
.
Product
CloudSuite Distribution Enterprise
CloudSuite Facilities Management
Infor EAM
Region
Let's Connect
Contact us and we'll have a Business Development Representative contact you within 24 business hours