When the future is now, ERP updates prove key to success
By Mary Trick, Chief Customer Officer
The typical age of an ERP solution release in a midmarket organization is more than seven years. A lot can change in that time – businesses expand, new technology is introduced, and new regulations are instituted.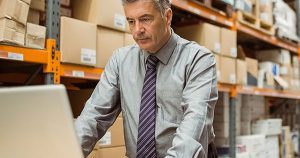 In the past seven years, a lot has changed at Infor. We've invested more than $2.5 billion in research and development, leading to development of the first mission-critical applications by industry in the cloud. Applications with a dynamic architecture, responsive, mobile-first user experiences, all powered by data science. This is not to say older versions of software no longer meet customers' needs—that is simply not the case—but upgrading does offer many benefits.
Successful organizations need to think three steps ahead to stay ahead. Updated solutions are more likely to be functional, usable, and scalable. They can help organizations take advantage of the latest technology and produce greater benefits.
Lacking up-to-date technology causes organizations to miss out on revenue and savings opportunities. Without up-to-date solutions, organizations are less likely to be able to share and integrate data with customers and regulatory bodies. These organizations are more difficult to do business with, and put themselves at greater risk of customer dissatisfaction or noncompliance.
Scalability becomes increasingly important as an organization grows. The more up-to-date a solution, the more flexible, and therefore scalable, it is. Recent Aberdeen Group findings indicate that technology advances in the past 24 months make an organization 2X more likely to have the ongoing ability to tailor their solution to their changing business, thus increasing productivity and functionality.
Consider the Aberdeen Group's other conclusions:


Organizations on the latest version of their ERP software typically report a 13% reduction in operational costs.

Organizations that are implemented on the latest release are 70% more likely than those that are not to have the ability to share and integrate data with the extended enterprise; partners, customer, and regulatory bodies.

In an ever-more-mobile world, organizations with the latest ERP software are 67% more likely to have access on mobile devices.

53% of organizations with the latest version use best practices of the ERP solution compared to 47% that are not.

If these findings aren't enough to convince you of the merits of an upgraded ERP system, consider this: Out-of-date systems are harder to support and maintain. This translates into less efficiency and more cost and risk to you.
While there are always fears of disruption due to upgrades, it's important to consider that upgraded solutions increase adaptability and usability, increasing productivity. Additionally, entirely replacing an ERP application rather than upgrading your current solution, either to the cloud or on-premises, is far more disruptive (and expensive) in the long run.
As a few upgrades and new technologies pass by, the struggle to stay ahead of the competition and meet market expectations intensifies. Conversely, when organizations update their ERP solutions, they gain improved data integration, collaboration, analytics, and mobility that better allow them to meet their changing business needs. No application is as "mission-critical" as an ERP system. Let's keep them running full steam ahead.
Let's Connect
Contact us and we'll have a Business Development Representative contact you within 24 business hours