Why mess with a good thing?
Jack Welch said "change before you have to." We agree wholeheartedly.
Infor EAM is already a best-in-class solution with an enthusiastic customer base and 30 years of experience helping organizations conquer their asset management challenges. So why on earth would we change it?
Because our customers told us how it could be even better.
Infor EAM's new capabilities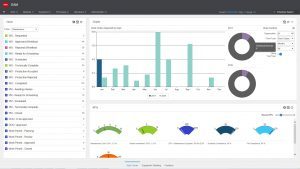 The latest version of Infor EAM, version 11.3, has just been released. This version incorporates developments from version 11.2.1, which was a cloud-only release, and also introduces new capabilities for all users, whether they run EAM on premises, in the cloud, or as a hybrid.
The major enhancements include:
Expanded transit and mobility management.
Boosts the productivity of field-based users by allowing for greater access to EAM on a disconnected mobile device.
Contemporary OpenCAD functionality.
Simplifies the integration between EAM's digital asset information and computer-aided design (CAD) graphical representations. This add-on module has been available to on-premises customers for a long time, but now is available for SaaS customers too, and is automatically included as part of the CloudSuite Facilities Management offering.
Intelligent Nonconformity Tracking.
Allows users to identify developing issues that need to be monitored over time and prioritized in terms of severity or risk.
Dark UI scheme.
The new dark user interface (UI) scheme provides a higher contrast display to help users in the field and in industrial settings work more efficiently despite non-ideal conditions.
Expanded equipment ranking.
Helps ease a complex process by assigning a rank that takes into account changes in environment, regulations, procedures, and methods—introducing consistency and logic to the process of determining equipment rankings.
To learn more about Infor EAM version 11.3,
read the brochure
. We think you'll agree that, when it comes to listening to customers and innovating with EAM, change is a good thing.
Product
CloudSuite Distribution Enterprise
CloudSuite Facilities Management
Infor EAM
Region
Let's Connect
Contact us and we'll have a Business Development Representative contact you within 24 business hours