In honor of Manufacturing Day, we continue our blog series which addresses the evolving issues in the industry, especially the existing skills gaps and what manufacturers can do to recruit the new workforce.
Recruiting from under-utilized groups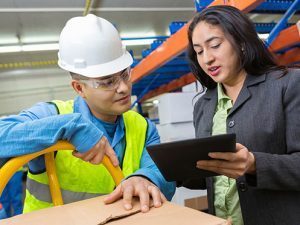 To overcome the lingering skills gap issue, manufacturers are going to have to change how they approach talent acquisition, development, and retention. One group of potential manufacturers that is sorely underrepresented in the current manufacturing workforce — and which represents major potential for the next generation of manufacturing workers — is women.
Deloitte recently studied the current workforce in manufacturing and found that only 29 percent of manufacturing employees are women, despite the fact that women make up 47 percent of the U.S. workforce.
Can manufacturers empower the women already in manufacturing positions and recruit more women to join their ranks? To support this goal, the Manufacturing Institute developed STEP Ahead, a program designed to "recognize the contributions of women to manufacturing, to tell the story of real women who are making a difference every single day, and to shine a light on the untapped opportunities for women in a rewarding field."
STEP Ahead includes a network of female ambassadors who work to attract the next generation workforce and to serve as role models to women who are just starting careers in manufacturing.
STEP encourages manufacturers plan high-impact events to expose middle and high school girls to successful women in manufacturing careers. Other organizations have similar goals
The National Girls Collaborative Project (NGCP) is a mentorship program designed to support organizations across the United States that encourage young women to pursue their interests in STEM education — and the careers it leads to. You can use NGCP's online directory, The Connectory, to find a STEM program in your area that matches your educational level and needs.
Started in 2005, the Manufacturing Institute's Dream It. Do It. program works to inspire the next generation of manufacturing workers, helping them find the right educational path to manufacturing careers.
To be successful, closing the gender gap must be a priority for senior management at manufacturing companies. In fact, 72 percent of women surveyed believe they are underrepresented in their organization's leadership team.
Encouraging more women to rise as manufacturers at all levels — from kindergarten to the corner office — is a major opportunity to address the impending manufacturing skills gap, improve the public perception of manufacturing, and continue to modernize the field in ways that go beyond just technology. These are all issues that today's manufacturers face and need to address, making efforts to include more women in manufacturing a wise choice.
To learn more about how women are currently represented in the manufacturing sector, the challenges they face, and actions that can be taken, download the Manufacturing Institute and Deloitte's "Women in Manufacturing" report.
http://www.themanufacturinginstitute.org/Initiatives/Women-in-Manufacturing/~/media/3B9BF94AEF0A46A5B755D17F1F1336BC.ashx
Let's Connect
Contact us and we'll have a Business Development Representative contact you within 24 business hours