Women of Infor: Terri Maske's work-life balance = mind-body balance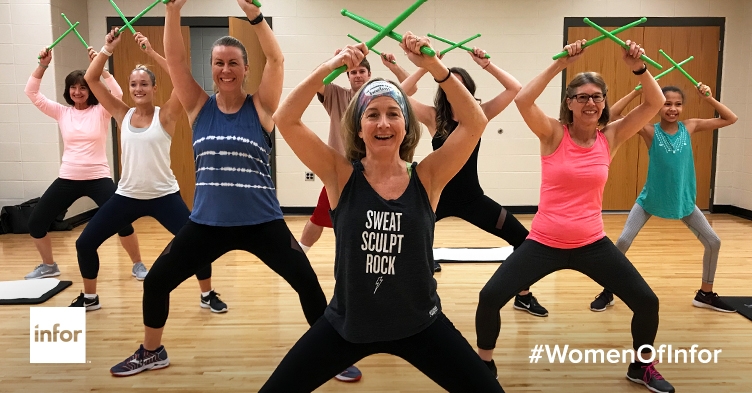 There are very few ways to make bicep curls, squats, or burpees fun and interesting. Adding music is one. "Then it's a blast," says Terri Maske.
She knows how to make training engaging—both at the gym and at work. By day, Terri leads Infor Education's Customer Revenue Enablement Team out of her home office in Atlanta, Georgia. By night, she teaches Barre, strength, cardio, and POUND classes at Buckhead YMCA.
The "Y" has named her Instructor of the Year for 2018, and she was recently asked to showcase her POUND class on the Weather Channel, for its series on unusual and fun fitness programs. She is also a guest speaker on thinking styles at Georgia State University.
"Now that I've found my work-life balance, I will not let it go," says the wife and mother of two. "I'm enjoying life so much more."
Her work and life paths have converged on training. Early in her career, she discovered a love for training and helping people learn.
At Infor, she has worked with several team and various constituencies. In 2009, she was asked to manage the creation and development of a new training program on a new multi-departmental team – Solution Value Engineering—which was bringing four products together into one solution.
"That team worked incredibly hard, and I began learning more about work-life balance. Up until I joined that team, balancing work and life had been a struggle. They taught me that working hard is part of it, but stepping back and making time for life and family is equally important."
In 2011, she joined the Infor Partner Network (IPN) team. "We were a small team, but we pulled together, and cranked out a ton of deliverables in short, challenging timeframes," Terri says.
Jumping onto different teams has been challenging. "For some roles and industries, I did not have any experience. However, I was tenacious, took initiative, and was willing to learn from everyone (managers, peers, direct reports). It helps me today to roll with change and thrive in it."
"Every day, I talk with an incredible Inforian, partner, or customer and learn something new. It's these women and men who focus on the company and team goals rather than individual goals or agendas that makes Infor a great place to work."
Terri also shares her training skills as a volunteer facilitator and Steering Committee member of the Women's Infor Network (WIN), an internal support system started by Chief Operations Officer Pam Murphy to mentor women for leadership.
"I've learned there are all kinds people you'll work with – good, great, and challenging. We know women have struggled in careers, and often are categorized as 'emotional.' I've also unfortunately seen and experienced women not being supportive of each other or other team members. I want to encourage women to share their minds and values. Through WIN, I've found other women who are just as strong, direct, and speak their minds like I do."
When asked if she could go back and tell her 5-year-old-self something, Terri simply says, "That you will not be over 5 feet tall unless you wear heels. And it's OK to share your value and accomplishments. It's not bragging, and there is an effective way to present your value."
That's the work side. For the life side, Terri adds, "Here's a tip: Find your movement, and enjoy it. By 'moving,' you are enabling your body, but also your brain. This quote from the movie "Legally Blonde" is absolutely applicable: '"Exercise gives you endorphins. Endorphins make you happy."
Filed Under
Education & Transformation Services
Infor culture
Let's Connect
Contact us and we'll have a Business Development Representative contact you within 24 business hours