Global Smart Manufacturing Summit | 29 - 31 March, 2017 – Oberursel/Frankfurt, Germany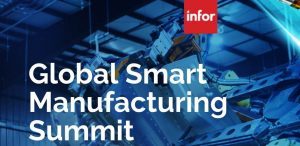 From the 29th to 31st March 2017 Global Smart Manufacturing Summit will bring together +180 decision makers and business leaders from across Europe, whereof 40% from DACH region.


Smart Manufacturing applies information and manufacturing intelligence to integrate the voice, demands and intelligence of the 'customer' throughout the entire manufacturing supply chain. It marries information, technology and human ingenuity to bring about a rapid revolution in the development and application of manufacturing intelligence to every aspect of business.


This global summit will give the general overview of smart manufacturing and the production trends that are currently led by the top industry leaders.


From our keynote speakers to small panel discussions, you will gain insights on what it takes to thrive in this new paradigm shift in manufacturing through the use of advanced technology.

Event details



29-31 March, 2017 | March 29: Audi Discovery Tour

March 30: 08:30 – 18:00 followed by networking dinner | March 31: 08:30 – 16.00

Mövenpick Hotel, Oberursel/Frankfurt, Germany