Ed Auriemma named Inside Sales Executive of the Year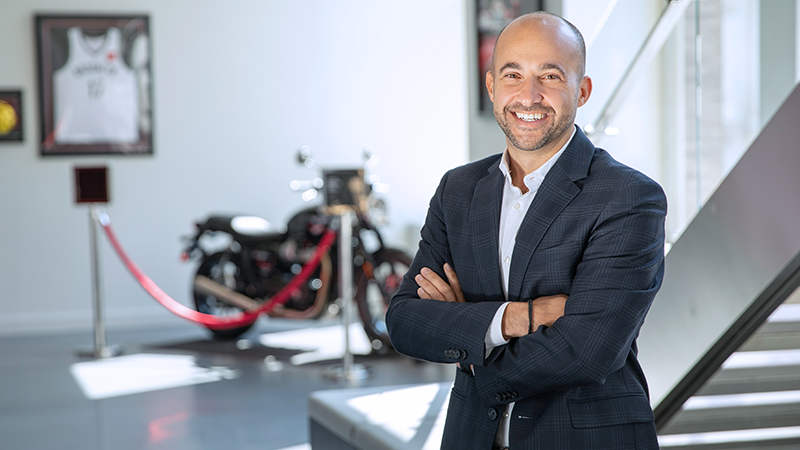 Some of the best praise you can get is kudos from your colleagues. Ed Auriemma's team and peers call him "a true champion for his people and for his people unlocking and reaching their potential."

Recently, they took their views of Ed to the next level. They nominated Infor's EVP and Head of Business Operations for the honor of Executive of the Year by the American Association of Inside Sales Professionals (AA-ISP)—and he was chosen.
The nomination emphasized his focus on mentoring — "his passion for helping people succeed and advance in their careers, and for being an advocate for advancing the profession of Inside Sales."
"Ed constantly pushes his teams to achieve higher and higher targets while supporting them with the vision, tools, technology, and guidance to overperform," says Oliver Yates, Infor VP of Inside Sales.
Ed is a 13-year veteran of Infor, having held various sales roles. He ran the Inside Sales organization for more than five years before he was promoted to the executive team overseeing all of Operations. Today, Ed plays a critical role in operationalizing global sales strategies, working closely with sales leaders in every region. Even though he has a broader role now, Inside Sales remains a passion.
"Insides Sales is critical to running a sales organization with scale—while being cost effective," Ed says. "It also allows you to develop early career talent to become next-generation sellers. And, it allows you to experiment with new markets, new technology, and new tools."
Ed's team members appreciate being pushed to expand their skills. "As a mentor, Ed will constantly challenge you to think more broadly and consider alternative perspectives that lead to more valuable outcomes for the business," Oliver says. "He instinctively knows when to lean in and when to let his teams run."
Ed's enthusiasm for Inside Sales earned him a place on the AA-ISP Board two years ago. The organization has frequently turned to him to get feedback on new programs and content.
Elevating the role of Inside Sales teams will pay off for organizations—and the entire industry, Ed contends. Operational excellence is the key to optimizing Inside Sales, he says. "It's all about the right framework for supporting the organization and giving sellers what they need to do their job before they know they need it."
"This award is a testament to the people-centric approach Ed takes in building a performance culture," says Katie Azuma, Infor VP of Business Development. "Congratulations, Ed!"
Let's Connect
Contact us and we'll have a Business Development Representative contact you within 24 business hours

By clicking "Submit" you agree that Infor will process your personal data provided in the above form for communicating with you as our potential or actual customer or a client as described in our Privacy Policy.