Infor Named to Constellation ShortList of Top Vendors in 7 Categories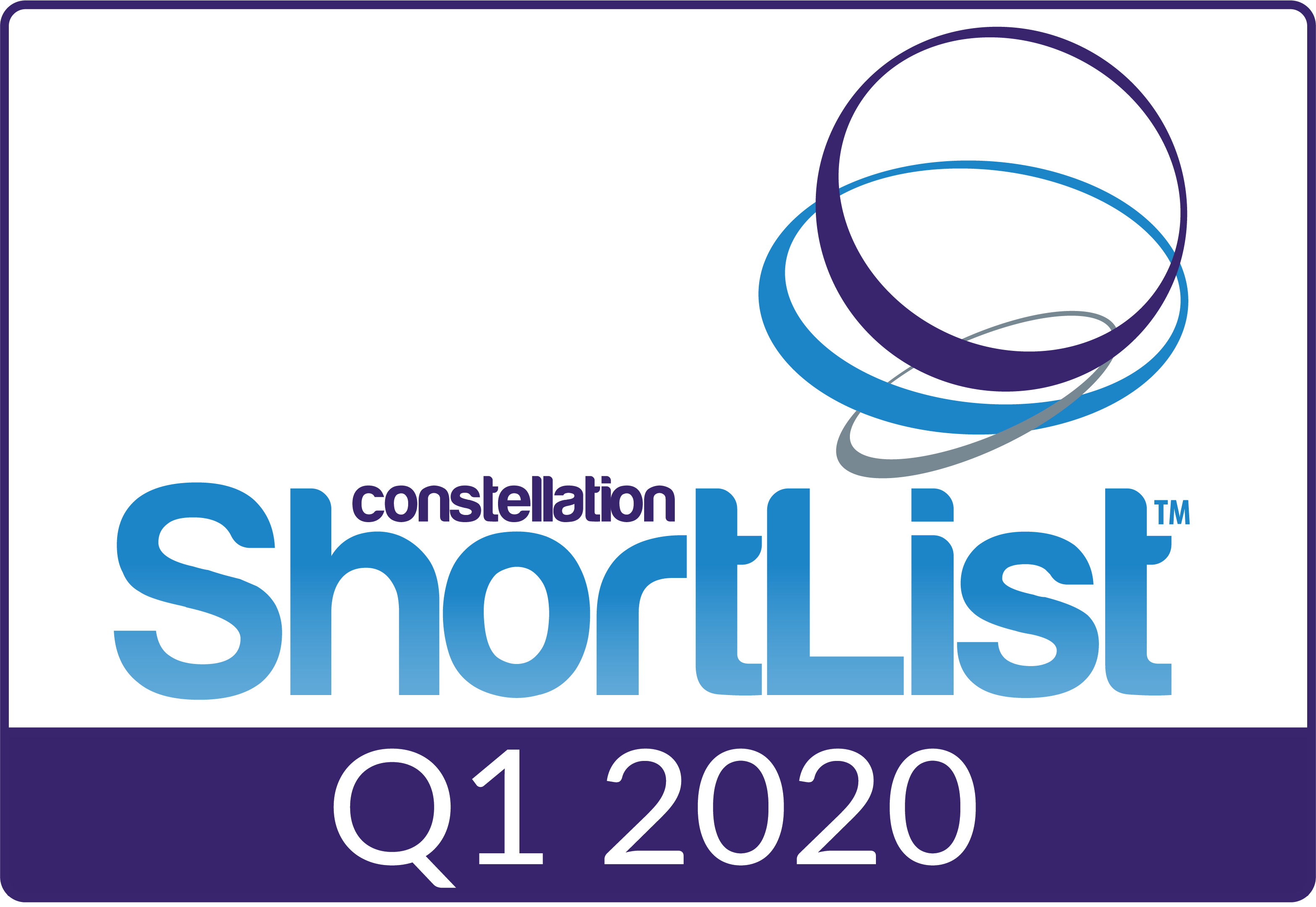 Infor solutions has been evaluated and chosen for the Constellation ShortList™ for Q1 2020 in seven categories:
"The Constellation ShortListä presents technology vendors relevant to early adopters pursuing digital transformation. Products and vendors included in the document meet the threshold criteria for the category as determined by Constellation Research. Solutions on the Constellation ShortList are selected by Constellation analysts through a research process that includes client inquiries, partner conversations, customer references, vendor selection projects, market share and internal research," according to the Constellation Research website.
Configure Price Quote — Infor CPQ
Constellation analyst Nicole France evaluated more than 20 solutions, and selected Infor CPQ as 1 of 7 for the ShortList, which is "focused on vendors that provide CPQ capabilities across a broad range of industry sectors."
Constellation chose Infor CPQ based on these criteria:
Ease of use, user interface
Deal optimization/profitability modeling capabilities
Integration into CRM systems
Broad geographical reach for multilanguage/currency support
Workflow management
Guided selling
Sales accessibility
Analytics and role-based reporting
Post-sales support and community
Price Optimization Solutions — Infor Pricing Science
Constellation analyst R "Ray" Wang evaluated over 40 solutions and ShortListed 9 — including Infor Pricing Science — using this criteria:
Support multiple pricing models
Enable complex promotion rules
Manage price lists
Prescribe pricing segmentation
Facilitate markdown scenarios
Deliver dynamic pricing
Provide advanced analytics
Create pricing optimization models
Collect competitive insights
Apply machine learning and artificial intelligence to identify, learn and predict new models
Integration with CPQ and order orchestration systems
Sales Force Automation — Infor CRM
France ShortListed Infor CRM as 1 of 9 after evaluating more than 70 solutions.
She writes: "One major challenge with SFA solutions has long been ensuring that the system is adopted and used appropriately by sales teams. Incorporating account analytics and insights that directly benefit salespeople has improved adoption rates. So have mobile solutions and interactive digital assistants that reduce manual data entry.
"Data flows and inconsistencies between SFA and other major systems such as marketing automation and customer service represent another big issue for many organizations. Some
vendors have built integrated systems across all three areas from the ground up, avoiding such challenges. Across the board, SFA vendors have begun to introduce intuitive drag-and-drop tools to create and automate customer workflows quickly and easily."
Enterprise Cloud Finance — Infor CloudSuite Financials & Supply Management
"Enterprise cloud finance applications provide the backbone of accounting, finance and treasury for organizations. These applications automate processes such as financial close cycles, regulatory requirements and cash management. The software supports the financial operations and delivers the core foundation for enterprise resource planning and back-office systems," says analyst R "Ray" Wang, who evaluated more than 25 solutions in this category.
Healthcare ERP — Infor CloudSuite Healthcare
Analyst David Chou reviewed 10 solutions and ShortListed 3 — including Infor CloudSuite Healthcare — using these 20 criteria:
Chart of accounts
General ledger accounting
Accounts receivable
Accounts payable
Planning and budgeting
Treasury
Travel management
Research grant management
Supply chain
Mobile supply chain capabilities
Procurement
Asset and logistic tracking
Supply to clinical order integration
Talent management
Workforce management
Payroll
Content management
Reporting and analytics
Cost accounting integration
Identity management integration
Services-Centric Cloud ERP — Infor CloudSuite

Wang evaluated 20 solutions in this new category, and chose Infor CloudSuite as 1 of 7 to ShortList.
Constellation describes Services-centric enterprise resource planning (ERP) as solutions that "provide financials and professional services capabilities for organizations that deliver services to customers. The most important resource in services-centric ERP is the human resources. Offerings must include both financials and professional services automation capabilities."
Wang observes: "One of the big shifts in the past 12 months has been the role of automation and artificial intelligence. Organizations seek the ability to get to zero FTE back-office organizations and autonomous processes. The goal is to determine when processes should be delivered with intelligent process automation, augmentation of machines with humans, augmentation of humans with machines, and human ingenuity and judgment."
Product-Centric Cloud ERP — Infor CloudSuite
Wang evaluated 25 solutions in this new category, and chose Infor CloudSuite as 1 of 11 to ShortList.
"Product-centric enterprise resource planning (ERP) focuses on how organizations make, sell and distribute physical goods. The key components focus on back-office administrative functions, shop-floor management, planning capabilities, operational systems and orchestration of orders. Vendors selected in this Constellation ShortList offer 9 out of the 14 criteria across a wide range of industries and geographies."
Let's Connect
Contact us and we'll have a Business Development Representative contact you within 24 business hours