New Field Work Mobile App Now Available with Infor EAM Latest Release
The Infor EAM Field Work mobile app is an exciting new tool now available in concert with the just-released Infor EAM version 11.6 asset management solution.
Mobility continues to be a key pillar of Infor EAM. The new Field Work mobile app was developed through the first-ever Beta program for Infor EAM. More than 50 customer and partner participants from around the globe provided active feedback. The mobile app is an important addition to the highly successful Infor EAM mobile ecosystem.
"Organizations can't afford to avoid mobility anymore with this new advancement," says Marty Osborn, president of Advoco, Infor's largest EAM partner worldwide. "The Infor EAM Field Work mobile app is one of the most significant advances in the EAM market. It allows for dynamic configurations and maximizes flexibility, enabling you to finally cut the cord and extend Infor EAM beyond the desktop. Don't miss the opportunity for Field Work to be a pillar of your EAM strategy."
Join the live webinar "What's new in Infor EAM v11.6" at 11 am ET Wednesday, Oct 14.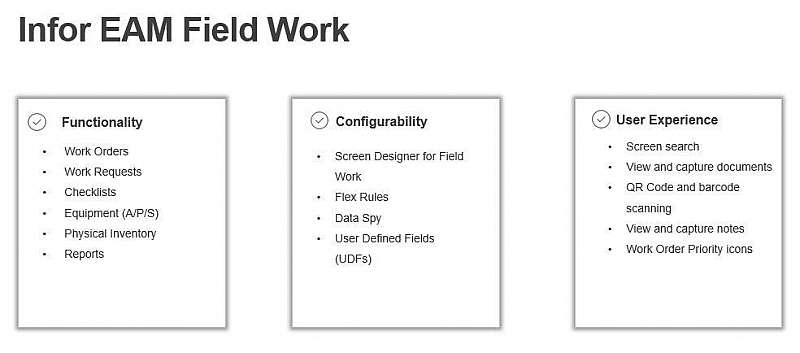 Infor EAM Field Work mobile app highlights
A large percentage of the maintenance workforce is deskless. The Field Work mobile app empowers operators to perform and track their maintenance activities efficiently while in the field.
The mobile app is also a configurable and extensible platform that delivers last-mile features like QR code scanning, document capture, apply locales, etc.
The app allows enforcement of standard maintenance practices as well as a standard way of collecting maintenance as asset data collection.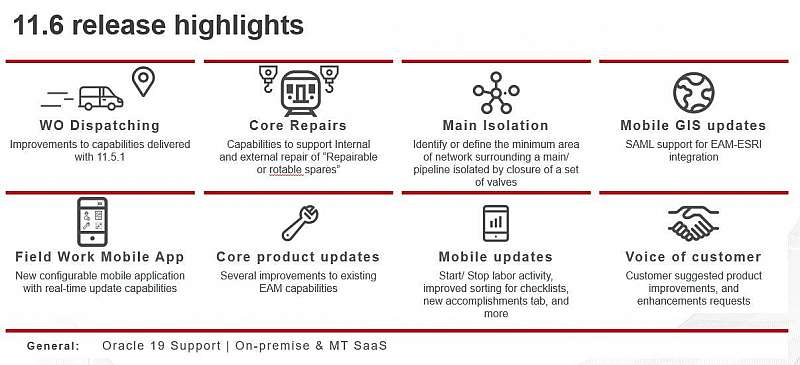 Infor EAM 11.6 highlights

GIS Work Order Dispatching – ESRI GIS-supported dispatch based on employee and crew availability
Main Isolation – Identify or define the minimum area of network surrounding a main or pipeline isolated by closure of a set of valves
Several exciting improvements to both desktop and mobile solutions
Let's Connect
Contact us and we'll have a Business Development Representative contact you within 24 business hours