A reference architecture for next-generation big data and analytics
Executive-Briefs
A reference architecture for next-generation big data and analytics
Hadoop is great for data storage, but the same features that make it great for running complex transformations on massive amounts of data make it less suitable for interactive business analytics. Hadoop's challenges in supporting large numbers of users at business speed and its lack of a business user interface require a new kind of data architecture.
For organizations looking for a data architecture that embraces the power and opportunity in big data, this white paper explains:
The current state and value of Hadoop in the enterprise data landscape
The architectural challenges of using Hadoop for broad-based analytics and what is needed to overcome them
The benefits of a next-generation data architecture and how to integrate Hadoop
The case for existing data warehouses and how they fit into the next-generation data architecture
Infor Birst's User Data Tier, together with its networked BI approach and adaptive user experience, offers a fast, responsive, and high-concurrency analytic environment empowering business users to interact with Hadoop in terms they understand.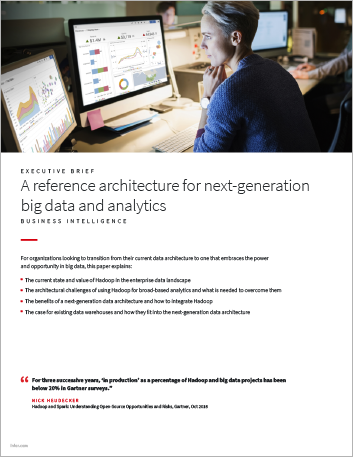 Let's Connect
Contact us and we'll have a Business Development Representative contact you within 24 business hours