How to move from preventive to predictive fleet maintenance
White Paper
How to move from preventive to predictive fleet maintenance
Predictive maintenance can provide a competitive advantage, enabling fleet managers to foresee asset failures and take preventive measures that lower overall maintenance expenses, reduce total cost of ownership, and improve driver uptime. Knowing in advance when a vehicle component is likely to fail allows more efficient parts and labor scheduling and reduced out-of-service time. What's more, predictive maintenance can help fleets improve driver satisfaction and make better decisions when retiring or remarketing assets. Read this brief from FleetOwner for top tips on moving towards predictive maintenance.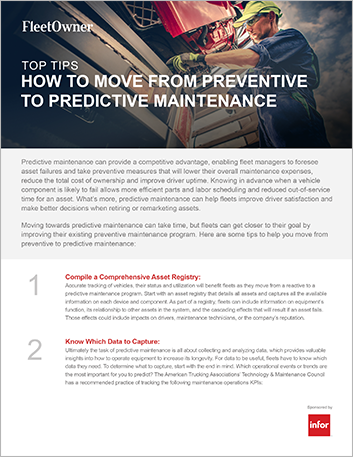 Please complete the form below
Fields with * are required.
Let's Connect
Contact us and we'll have a Business Development Representative contact you within 24 business hours

By clicking "Submit" you agree that Infor will process your personal data provided in the above form for communicating with you as our potential or actual customer or a client as described in our Privacy Policy.