Managing the chemical supply chain through vast uncertainty
White Paper
Managing the chemical supply chain through vast uncertainty
Navigating various economic scenarios in chemical manufacturing can be challenging. Producers need to be able to access accurate data quickly to respond to severe supply and demand fluctuations. In addition to speed and accuracy, the ability to collaborate remotely and with continuity allows organizations to remain agile. Read this IDC paper and learn how to pursue supply chain planning excellence to operate competitively.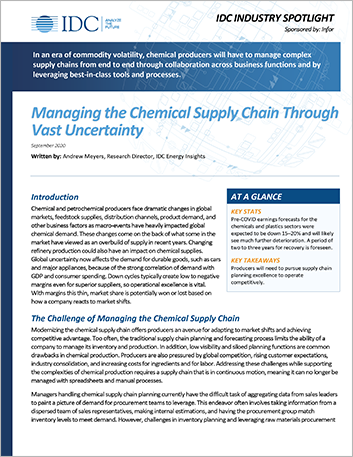 Please complete the form below
Fields with * are required.
Let's Connect
Contact us and we'll have a Business Development Representative contact you within 24 business hours

By clicking "Submit" you agree that Infor will process your personal data provided in the above form for communicating with you as our potential or actual customer or a client as described in our Privacy Policy.