IDC names Infor a "Leader" in 2019 MarketScape Report for Worldwide Supply Chain Planning
Analyst Report
IDC names Infor a "Leader" in 2019 MarketScape Report for Worldwide Supply Chain Planning
Infor has recently been named a "Leader" in the IDC MarketScape Report for Worldwide Supply Chain Planning 2019 Vendor Assessment. Download the report to learn why Infor CloudSuite Supply Chain Planning has earned this honored distinction. Disclaimer: IDC MarketScape vendor analysis model is designed to provide an overview of the competitive fitness of ICT suppliers in a given market. The research methodology utilizes a rigorous scoring methodology based on both qualitative and quantitative criteria that results in a single graphical illustration of each vendor's position within a given market. The Capabilities score measures vendor product, go-to-market and business execution in the short-term. The Strategy score measures alignment of vendor strategies with customer requirements in a 3-5-year timeframe. Vendor market share is represented by the size of the circles. Vendor year-over-year growth rate relative to the given market is indicated by a plus, neutral, or minus next to the vendor name.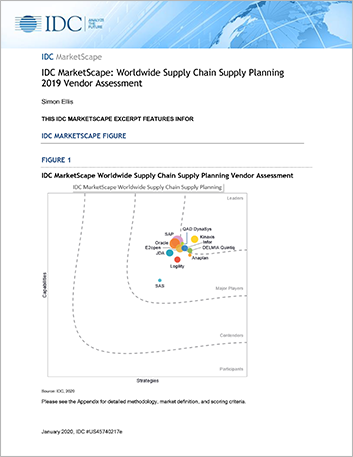 Please complete the form below
Fields with * are required.
Let's Connect
Contact us and we'll have a Business Development Representative contact you within 24 business hours