What hospitality organizations need to know about payment trends
White Paper
What hospitality organizations need to know about payment trends
Payment technology is evolving fast, changing the way payments are processed across multiple industries and regions of the world. But emerging and leading payment platforms and solutions are also the way the act of paying for goods and services is perceived by consumers. Once the precedent is set for the next step in payment technology—including better security, more mobile-friendly design, and more globalized acceptance—consumer expectations will demand that organizations support them. In restaurants, food services, hotels, and other hospitality industry businesses, the way guests expect to pay for goods and services and the kinds of experiences they have around payments is a deciding factor to maintaining a competitive advantage, or even just to keep up with a changing industry. This white paper outlines some of the key trends that drive organizations in the hospitality industry to consider how their approach to payments and payment technologies must change, and be scalable enough to adapt to where the industry will go in the future.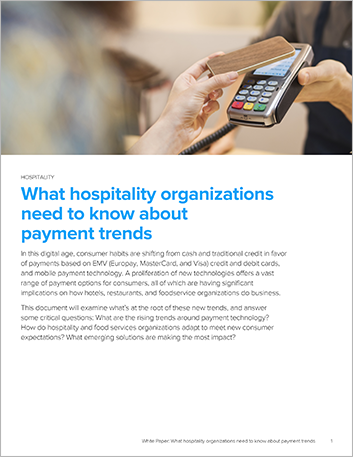 Please complete the form below
Fields with * are required.
Let's Connect
Contact us and we'll have a Business Development Representative contact you within 24 business hours