10 Tips to avoid Digital Darwinism
December 20, 2019
By Brad Revell
Digital - a term that has been synonymous in the technology industry in driving productivity, efficiencies and value to organisations. The ability to innovate with digital is one thing, yet the ability to deploy digital is something else. The Hook & Loop Digital team has just closed out the year by helping Santa frame up his digital strategy (see here for the output of that engagement). As part of this engagement and the others we have done over the last few years, we thought we would share some tips on avoiding Digital Darwinism.
Start with business outcomes: Our team has a mantra to start with the end in mind. Its heritage comes from Stephen Covey. Make sure with any endeavour that you know the desired / target outcomes and associated value before you begin.
Industry 4.0 is here: Industry 4.0 has gained momentum in 2019 and must be a consideration for any organisation involved in manufacturing. All the key components of Industry 4.0 will become table-stakes sooner than organisations realise. Like Cloud, the time to leverage these components must be now!
Think Platform Play: The most successful organisations have built technology platforms for their customers. Think FAANG (e.g. Facebook, Apple, Netflix, Amazon and Google) - they are very visible examples of platforms. At Infor, we are no different. We have established a set of industry specific solutions built on one platform which is multi-tenant enabled. This means our customers get value faster and have less need to customise. Furthermore, this platform has all the key components our customers are looking for. Think security, process integration, workflow, analytics, big data, personalisation and much more. Make sure your platform has all the key ingredients to reduce operational friction.
The Digital Ecosystem: We consider four key areas of a digital ecosystem. These are Operations & Assets, Employees, Customers and Network. If you create a strategy in isolation you will fail. Instead focus on establishing a functionally integrated digital ecosystem where all four areas work together. This creates a multiplied value benefit.
Connect Back-End to Front-End: These two areas of your business must be connected. A digital ecosystem and platform can help you get there. Just as important is to ensure you also modernise your core. A modernised foundation that is connected end to end is the only sound way to realise digital.
Data is the new oil: Domo quoted (URL) that by 2020 there will be 40x more bytes of data than there are stars in the observable universe. It is inevitable that data will ultimately drive your business. Software's role will then be to identify the next best action. What's your data strategy? How will you identify, capture, clean, analyse and leverage data?
Business not IT conversation: Digital's role is all about driving better business outcomes. Any initiative must be driven from and by the business.
Change Management: People must be considered in the equation when establishing and executing a digital strategy. What is their employees' ability to absorb, adopt and augment the digital changes happening daily?
Waiting too long: Digital is here to stay. Start now with the right partner who can provide the solutions and capabilities you need that take all of these tips into consideration.
Cloud must be part of the strategy: Organisations must be planning WHEN (not IF) they want to unlock the power and capabilities of Cloud in their business. Whether it is operational efficiencies, security, scalability or innovation, Cloud has to be the key and ingredient in your business' recipe.
Infor's Hook & Loop Digital Team work every day with our customers on these above aspects. We develop digital strategies that start with the end in mind. We first begin by understanding the 'who' and 'why'. We then drive to determine the 'how'. Ultimately the 'what' becomes apparent and obvious as it did for Santa! Make sure you check it our engagement with Santa and his team!
If you want to learn and know more come visit us at Infor Inspire London on 3rd March 2020.
Until then, Merry Christmas from Infor's Hook & Loop Digital Team!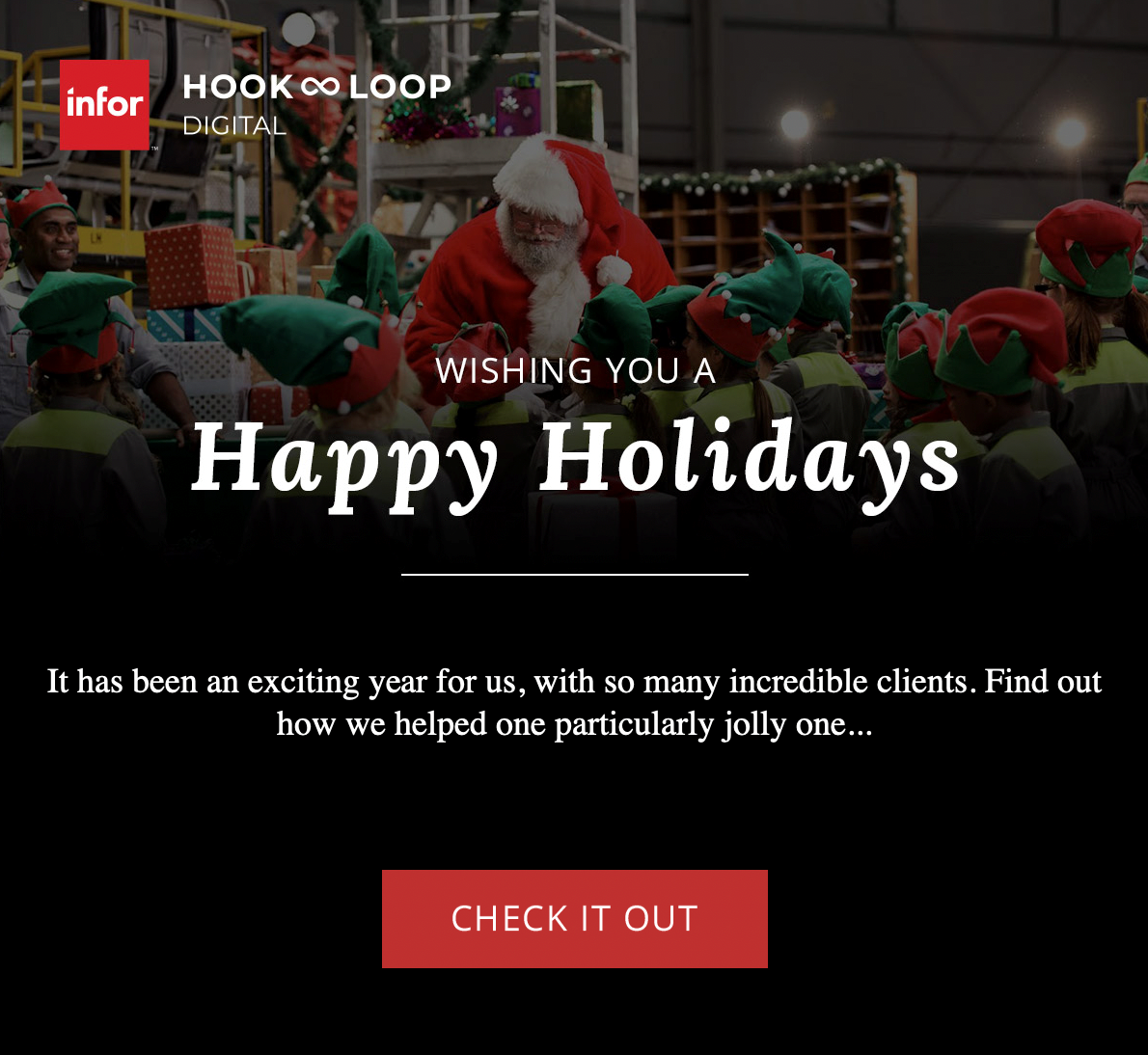 Filed Under
Cloud
General
Technology
Trends
Let's Connect
Contact us and we'll have a Business Development Representative contact you within 24 business hours