Next Generation Consulting Services: Providing market agility and rapid deployment of cloud solutions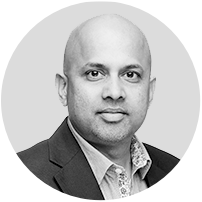 By Rama Vadakattu, VP, Solutions & Innovation, Infor
Our customers tell us that agility is a major concern. Enterprises today need to quickly react to changing market demands. The pressure to remain relevant in a transformative landscape is driving their strategies. It's also driving their investments in software solutions. At Infor we're keenly aware of this need for agility and expectations for streamlined deployments. Our teams are focused on accelerating value to customers. As our new leadership team "doubles down" on our conviction to customer-centricity, tactics to aid rapid deployment are a high priority. Next generation Implementation accelerators (IA 4.0) provide the foundation. Combined with another business process assessment concept, simply called "60-30-10" is at the heart of a key Infor value to customers. This article will explain the concept, how it works, and what we're doing to roll it out globally.
Why is this important?
For our customers, being well-prepared for change is critical for success—no matter the industry, region, or size of the company. Even highly alert, tech-savvy companies can be negatively disrupted by rapid change if their reflexes are slow. Companies can find themselves in a desperate, reactive mode, fighting to retain market position as competitors push out bigger and better offerings—overnight.
On the other hand, forward-thinking enterprises strive to be proactive and ahead of the curve. They want to anticipate the next market pressure before it becomes a threat.
Modern software solutions, deployed in the cloud and equipped with the latest functionality--like augmented analytics, process intelligence, machine-learning, artificial intelligence, and Internet of Things (IoT) capabilities-- provide valuable tools for future-proofing the business. Infor is one solution provider that is addressing customers' need for rapid deployment of advanced business solutions—without sacrificing their unique differentiators.
Less than perfect
In the past, traditional ERP deployments on premise with heavily modified business processes were often massive projects, taking years to roll out and resulting in a complex solution to maintain. Complex is the enemy of speed the organizations are under pressure to adapt and stay competitive. The "Big Bang" cut-over from one solution to the new one was often highly stressful as crews of consultants scrambled to migrate data, fix broken links, and create workarounds. Few companies can absorb this level of risk and cost today.
Cloud computing provides a smart alternative. But, as organizations realized the value of cloud deployment and decide to adopt the technology, they often faced limited, disappointing options. Many solutions providers that offer multi-tenant cloud deployment, expect customers to adopt "generic" software to take advantage of the economies of scale and rapid implementation. Or, they offer to take the existing cumbersome structure and put it in a single tenant cloud environment, keeping the complex personalizations that make it difficult to upgrade.
Neither option is ideal. The highly simplified, generic software doesn't support complex business models in industries like manufacturing, retail, and supply chain management. The highly customized solution, though, can be difficult to keep modern. Each upgrade will require re-aligning customized links. This slows down modernization and adds costs.
A better way
Infor understands the need for agility in today's business climate. Customers need high value from their business software quickly. With cloud computing's subscription model, customers start paying for their solution on day-one. Of course, they want to see savings from process improvements soon after. Return on Investment (ROI) should be close at hand, not a long-range goal. How can we make this happen?
Infor has developed a three-prong approach to greater agility.
Standardizing CloudSuites. The first step was to simplify and standardize our CloudSuites. We took a hard look at each industry-specific solution and refined what functionality should be included in the standard suite. We clearly documented the footprint for each solution. Being consistent in our approach enables us to focus on key deliverables and achieve better results. This is proving to be highly effective. Sticking to proven implementation methodology and clearly defined data migration paths speeds the go-live process, creating some early-wins and building momentum.
Implementation Accelerators (IA). To further speed the process, we have developed implementation accelerators for our major solutions. These are fourth generation of IAs, which comes with native process mining capabilities integrated with our CloudSuites. IAs are industry focused preconfigured, yet flexible, solutions based on Infor application suites. They are designed to deliver industry leading business processes, along with application configurations, implementation playbook, tools and templates. The tools provide a framework for implementing industry business processes, migrating data, establishing workflows, , and educating users on the features and functionality of the solution. Change management and training are important to major roll-outs. Our consulting services teams are ready to help.
"60-30-10".
This is a Business Process Assessment (60-30-10) approach. Implementation Accelerators (IA) provide industry specific business processes for Infor CloudSuites, however, we believe that "Not all business processes are created equal". We created an unique approach to help customers determine which processes are most important to differentiate themselves. With this approach, both our customer and Infor will focus more time on these key processes to realize maximum value.
60% - These are core industry leading processes provided in IA that our customers can adopt this with very little effort, where the time spent will be on validation of the standard IA processes. These are the processes that are required but do not provide differentiation for our customer. So, the goal for these 60% of the processes: Adopt as is.
For the 30%, these are the processes that are differentiators for our customers. We will spend more time in the project on these processes, with specific guidance on configuration options to operate this process, or how to tweak an output document or interface. While this is going to take some effort we are not starting with a blank sheet, we are going to give them some options that they can tailor and configure to best fit their business needs.
The goal is to free up more time and capacity to focus on the 10% which are the processes that are highly differentiating/unique to help make dramatically better decisions or better customer experiences, or better experiences within their customer supply chain.
By reducing the work within the 60% of the processes, frees up time and makes customer and Infor resources focus on the 30% (differentiating) and 10% (unique) processes and help our customers achieve a better business outcome.
"IA Business Process Assessment (60-30-10) workshop" to jointly identify which of the processes provide differentiation to the customers.
This approach keeps implementations on track, keeps teams from wandering off into uncharted "wish lists" and getting lost in theoretical ways of engineering a better mousetrap. By adopting 60% standard business functionality and shifting focus on 30% differentiators, and 10% unique processes--the secret sauce that separates the company from the competition.
Final thoughts
Looking at these steps individually may paint an overly simplistic picture of deployment. It is still a complex and amazing adventure with many moving pieces and cross-functional teams impacted. Moving to the cloud is a big step for companies. But necessary. We are doing everything we can to make it easier and faster. When these tactics are used together in a strategic CloudSuite deployment, the customer sees major benefits. Not only are the benefits of cloud deployment achieved quickly—the customer also receives the benefits of industry-rich functionality. And, we don't stop there. We ensure that the highly personalized attributes special to the company are implemented as well—in a way that complements the overall system. This supports an always-modern enterprise platform. The company can embrace new features as they are offered on an ongoing basis. Companies can be proactive and quick to take advantage of emerging opportunities. Infor Agility is the key to success in a world of continual change.
Let's Connect
Contact us and we'll have a Business Development Representative contact you within 24 business hours