Infor has been serving the oil and gas value chain for 25+ years
Oil & Gas
Infor helps oil and gas companies reduce operational risks, improve investment strategies, maximise asset lifecycles, meet sustainability goals, and optimise the workforce. With our quarter of a century of experience in the industry, we've earned a deep understanding of the specific challenges oil and gas companies have faced and will confront as the century moves onward.
Complexity of long-range planning
Lack of a data management strategy and integrated systems negatively affect investment strategies.
Comprehensive asset program
Incomplete asset management strategies lead to increased safety risks, compliance issues, and poor lifecycle management.
Modern, connected workforce
Inadequate employee training and disconnected operations lead to higher risk.
Sustainable operations
"Green" operations, public transparency, and environmental innovation are difficult to deliver with antiquated systems.
Industry compliance
Evolving regulatory pressures and disconnected data prevent effective risk planning.
Micro-vertical expertise delivers business value faster

UPSTREAM

MIDSTREAM

DOWNSTREAM

OIL FIELD SERVICE PROVIDERS
Solutions for your most critical challenges
Infor's solutions for the oil and gas industry are the leading suite of ERP, asset management, and related software—integrated and delivered in a secure, multi-tenant cloud.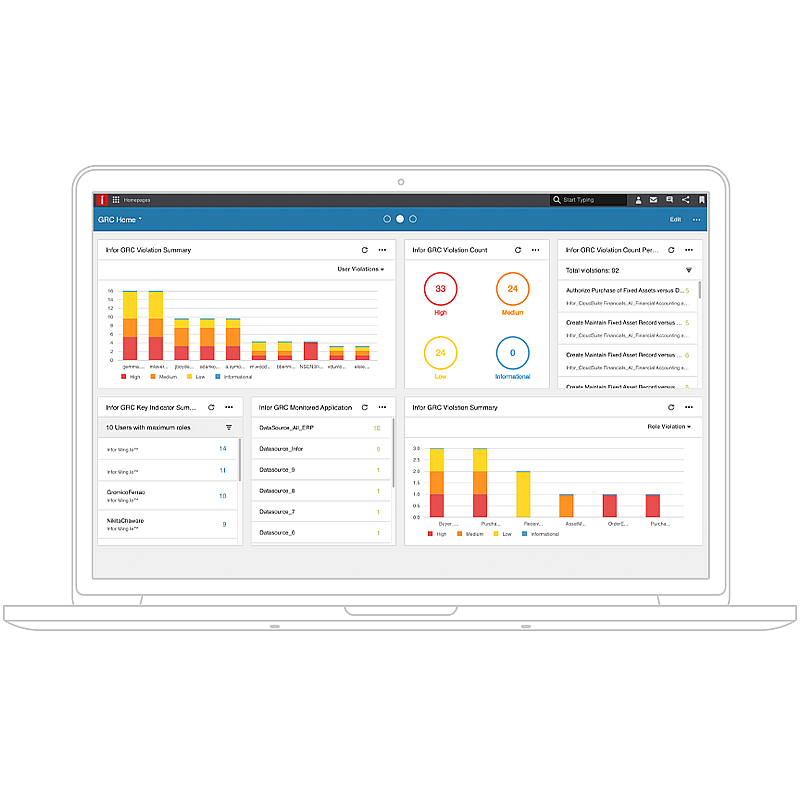 Meet regulatory compliance
Ensure adherence to industry standards
Manage and implement asset risk and regulatory requirements
Ensure proper personnel training through certifications and assessment
Enable planning and desired safety outcomes with predictive analytics
Adhere to clean water, clean air, and sustainability regulations
Automate monitoring with AI and machine learning technologies
Integrate business systems
Increase operational reliability and reduce the likelihood of interruptions
Automate workflows with AI to eliminate inefficiencies in operations
Unify business systems to facilitate decision support
Incorporate safety into all operations
Track all supply chain transactions with integration to commerce networks
Increase productivity and employee adoption via mobile enablement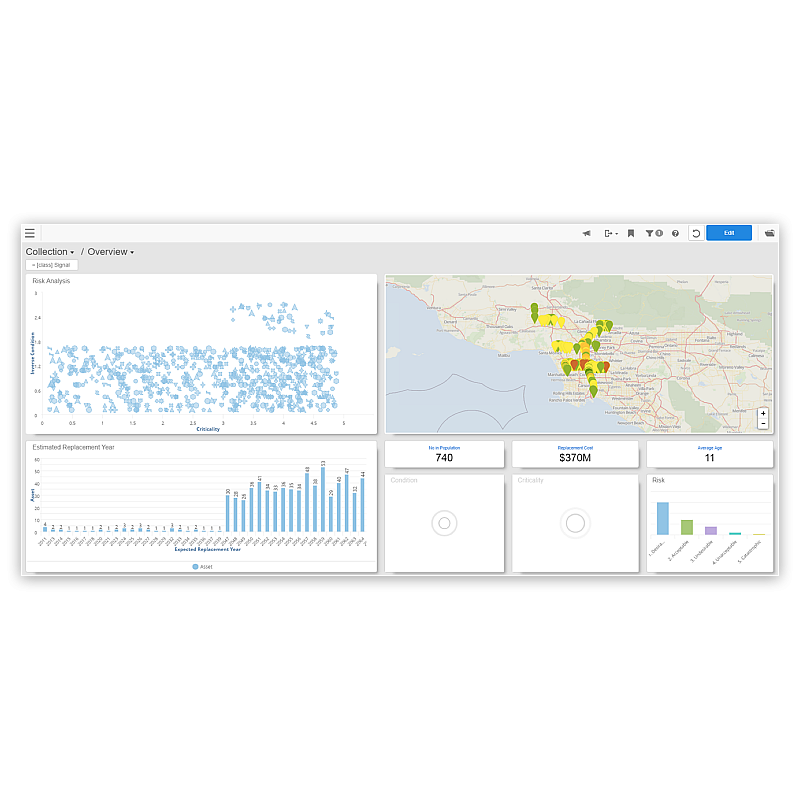 Optimise asset management
Maximise asset lifecycles with comprehensive asset management, risk management, and planning
Improve system reliability and reduce downtime
Base planning on condition assessments, failure analysis, and risk profiles
Embrace complete support for Management of Change
Automate prescriptive maintenance and intelligent planning via analytics and IoT
Reduce environmental risk through policies, training, and asset management
Elevate environmental management
Leverage proper planning and optimised operations to reduce the risk of a negative environmental impact
Mitigate incidents with a detailed asset strategy and optimisation plans
Document and enforce detailed and vetted response plans
Drive decisions with embedded analytics and flexible planning tools
Enable a connected workforce
Apply a data-driven model to improve hiring and workforce development
Use role-based dashboards for access to relevant, timely data
Attract, hire, train, and retain a diverse workforce
Maximise resource allocation and scheduling
Assign and track safety and risk compliance training
Enhance recruitment and employee development
Productivity by the numbers
16%
improved maintenance workforce productivity
20%
extension in equipment life expectancy
38%
planning and supply chain process improvement
Built for Industry
Oil & Gas solutions
Infor EAM
Infor EAM is best-in-class asset management software that can help digitise and optimise maintenance operations to reach new levels of efficiency. This 21st-century solution is built in industry-specific editions to address unique challenges. Unlike niche solutions that simply can't grow, or ERP add-on products that require extensive customization, EAM is a purpose-built asset management software solution suite that's ready to scale and transform with any organization.
Highlights
Maximise the reliability and performance of assets
Predict equipment failure and carry out preventative maintenance
Comply with strict legal and environmental regulations
Streamline purchasing and procurement
Track labour costs and reduce downtime
Learn more
Infor Financials
Infor Financials is an integrated finance and supply management software solution suite that couples modern financial functionality with tools to track supplies and streamline order processes.
HIGHLIGHTS
Personalised home pages
Beautiful and intuitive role-based user interface
Unlimited financial calendars
Unlimited ledgers and basis reporting
Unlimited dimension strings
Full visibility of indirect spend
Strengthened supplier relationships
Increased policy compliance
Multiple cost-savings opportunities
Powered by data science
Embedded analytics directly in users' work streams
PRODUCTS INCLUDED
CloudSuite Financials & Supply Management
Infor OS
Learn more
Infor Workforce Management
Infor Workforce Management (WFM) is a comprehensive labour optimisation, planning, and time and attendance software solution that manages employee resource demand, labour performance, and business analytics. WFM can help companies address every aspect of their labour compliance and performance needs with time and attendance, demand-driven scheduling, workforce scheduling, and absence management software tools. Mitigate the risk of potential compliance errors and reduce costs, while encouraging employees to focus on activities that generate more value.
HIGHLIGHTS
Compliant time and attendance tracking
Shift or demand-driven optimised scheduling
Mobile-first workforce management
Improved employee communication
Real-time labour analytics
Industry-specific last-mile functionality
PRODUCTS INCLUDED
Infor HCM
Infor HCM is a leading-edge, end-to-end talent-focused solution that helps organisations strategically align people initiatives and talent capabilities to overall business strategies.
HIGHLIGHTS
Get all the human capital management functionality you need in one complete solution, with the broad capabilities from a single cloud HR vendor.
Utilise a consumer-grade, personalised, role-based user interface with prebuilt, interoperable components across your HR organisational structures-world-wide.
Use relevant and timely data, based on behaviour science and analytics to engage employees and reach their greatest potential.
Apply modern HR cloud technology to give you complete employee visibility and optimally hire, develop, and retain the right talent.
Boost employee performance, improve workforce effectiveness, and maintain control over your company's talent strategy and HCM technology with a flexible, secure, and cost-effective cloud infrastructure.
PRODUCTS INCLUDED
HCM
Talent Management
Global HR
Talent Science
LMS
HRSD
Learn more
Infor WMS
Infor WMS is an intuitive warehouse management system designed to help manage distribution center activities holistically. It combines warehouse fulfillment with embedded labour management and 3D visual analysis in a unified application that empowers organisations to enrich service levels and increase product velocity.
HIGHLIGHTS
Holistic multisite warehousing
Unprecedented visibility into inventory, orders, and equipment
Deploy on-premises or in the cloud
Native in 14 languages
Highly configurable
Modern UX
Learn more
Let's Connect
Contact us and we'll have a Business Development Representative contact you within 24 business hours