Digital adoption: The missing link in productivity growth White Paper
Make UK and Infor paper
Britain's manufacturers continue to move forwards, transforming their businesses by taking advantage of the digital adoption revolution to
build greater resilience, increase their international competitiveness and improve productivity. Recent survey results show that nearly half of the manufacturers are already at the "evolution" stage of their digital adoption maturity stages.
A new report by Make UK and Infor shares research results revealing that increased production flexibility, labour efficiency, and improved profitability top the table as the main benefits behind the adoption of digital.
Download the paper to learn valuable insights on the benefits of digitalisation from those well down the path and explore the inhibitors for those yet to start.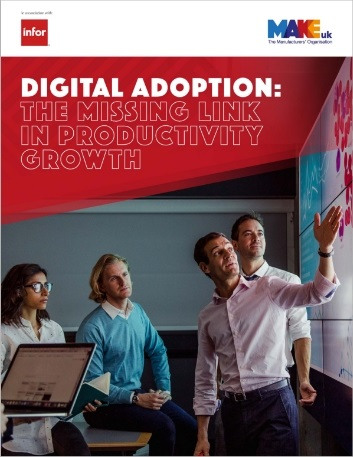 Let's Connect
Contact us and we'll have a Business Development Representative contact you within 24 business hours

By clicking "Submit" you agree that Infor will process your personal data provided in the above form for communicating with you as our potential or actual customer or a client as described in our Privacy Policy.