TechnoNICOL digitally transforms its manufacturing operations with Infor EAM
Case Study
TechnoNICOL digitally transforms its manufacturing operations with Infor EAM
TechnoNICOL Corporation wanted to implement robust mechanisms for collecting and capturing ongoing equipment events and data, as well as for analyzing equipment failure information. Through digitalization, the company aimed to extend inventory and workforce planning time-frames, increase purchasing transparency, and ensure full automation of recurring maintenance procedures.
Within the scope of the multi-tiered digital transformation, the implementation of an enterprise asset management solution, Infor EAM, proved to be a coherent element of the general strategy aimed to improve manufacturing efficiency across the company's plants.
The implementation of a unified cloud solution covering enterprise asset management enabled the creation of a centralized business structure and processes for all plants integrated into the system. Process standardization has also simplified personnel rotations, as plant employees now have no trouble adjusting to the new work environment. Read this case study to learn more.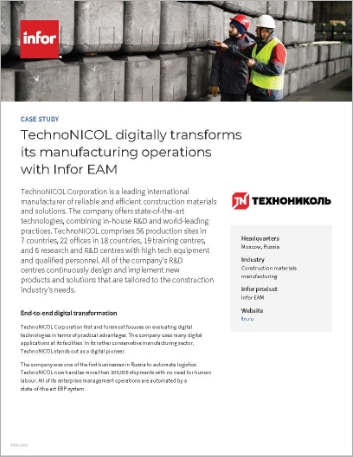 Let's Connect
Contact us and we'll have a Business Development Representative contact you within 24 business hours