Infor Hospitality - see our solution suite
Brochure
Infor Hospitality - see our solution suite
Hotels, resorts and restaurants organisations know that a great guest experience is the key to success in the hospitality industry. But the definitions of what makes a guest experience great changes with the times. Businesses have to change along with it. Digital transformation, cloud technology, and the importance of unified business data to drive strategy has accelerated those changes.
What kinds of elements should your organisation have in place to serve current business goals and also anticipate and scale for ones that are emerging?
Infor's suite of core hospitality software, integrated with each other and with other essential systems, helps hospitality organisations accomplish their goals in a new era of digitalisation. In this brochure, you will find summaries of our key hospitality software solutions to help you connect the dots as needed to modernise on a singular and scalable hospitality platform. Find out more right here.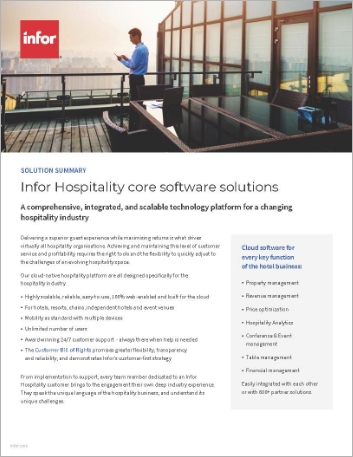 Let's Connect
Contact us and we'll have a Business Development Representative contact you within 24 business hours

By clicking "Submit" you agree that Infor will process your personal data provided in the above form for communicating with you as our potential or actual customer or a client as described in our Privacy Policy.