No Weak Links: Building Supply Chain Resilience White Paper
New Make UK and Infor research examines supply chain pressures
Uncertainty in supply chains is driving new behaviours among manufacturers as the pandemic and global trade disruption have taken their toll on confidence.
A new report by Make UK and Infor shares research findings and trends in supply chain management as manufacturers move away from a just-in-time model to a just-in-case mentality.
Download the report to learn what manufacturers are doing to build a resilient supply chain that can withstand these disruptions and manage the risk of further instability.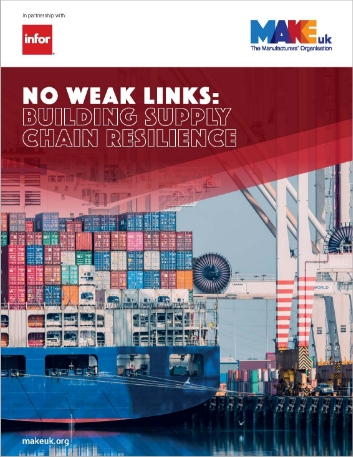 Let's Connect
Contact us and we'll have a Business Development Representative contact you within 24 business hours

By clicking "Submit" you agree that Infor will process your personal data provided in the above form for communicating with you as our potential or actual customer or a client as described in our Privacy Policy.