Clash of Titans 2020—Infor vs SAP, Oracle and Microsoft
Analyst Report
Clash of Titans 2020—Infor vs SAP, Oracle and Microsoft
Download the Panorama Consulting "Clash of the Titans 2020" report to learn how Infor ERP solutions fare against the competition, based on a survey of 134 respondents. Here's a sneak peek at what the report says:
"Infor's ERP applications require less configuration than the core SAP ERP system."
"...Infor's offerings are cloud-based ERP suites each aimed at a specific industry."
"...Infor's solutions have deep enterprise-type functionality."
Download the report now for a complete look at the numbers and further details.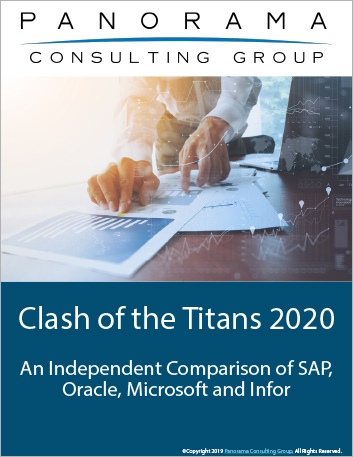 Please complete the form below
Fields with * are required.
Let's Connect
Contact us and we'll have a Business Development Representative contact you within 24 business hours

By clicking "Submit" you agree that Infor will process your personal data provided in the above form for communicating with you as our potential or actual customer or a client as described in our Privacy Policy.