Rapid sense and response with Infor Nexus Control Center
Analyst Report
Rapid sense and response with Infor Nexus Control Center
Supply chain control towers are seeing broader adoption due to recent disruptions that include severe weather systems, global trade disputes, and heavy stock shortages due to COVID-19. By using an advanced supply chain control tower that utilizes a global collaborative network, users gain near real-time access to external data signals from suppliers, production sites, carriers, 3PLs, and more to make more proactive decisions should a negative situation arise. Download the Nucleus Research analyst report to learn how Infor Nexus Control Center provides rapid sense-and-response capabilities to drive stronger supply chain execution.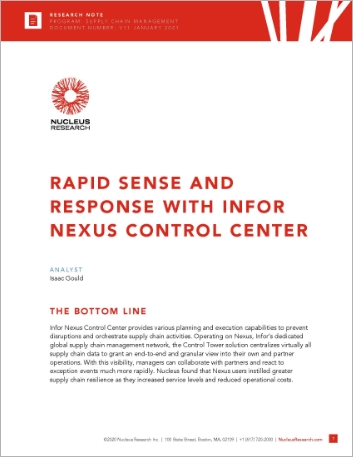 Please complete the form below
Fields with * are required.
Let's Connect
Contact us and we'll have a Business Development Representative contact you within 24 business hours