Technology, culture, and the new hotel guest experience
White Paper
Technology, culture, and the new hotel guest experience
Hospitality industry leaders are investing in the kinds of technology that not only gives them a competitive edge. They're also doing so to help create the kinds of experiences that are becoming cultural standards; mobile-friendly, seamless, and processes that put the guest in charge. How does that play out day to day for hotel organizations and their guests? What is the correlation between hospitality technology solutions and the cultural expectations they serve? How should all that drive how businesses approach their technology platforms and the kinds of solutions in which they invest to make them scalable and consistently supportive of a better guest experience? Get this white paper that outlines the details.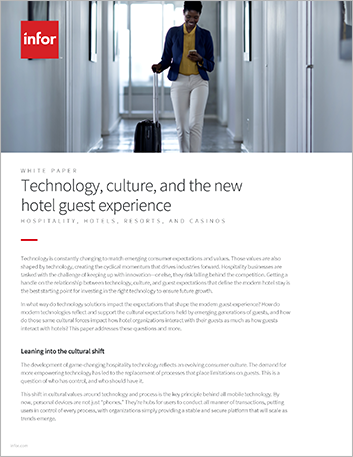 Please complete the form below
Fields with * are required.
Let's Connect
Contact us and we'll have a Business Development Representative contact you within 24 business hours