June 15, 2022By Sam McFarlane

This month marks the following new feature rollout to users of Infor OS Cloud Edition (CE).
---
Enterprise UX
My Request View: Added a "My Request" view to the enhancements page to display enhancements added by the user. This provides the ability to quickly see and export a list of all the Enhancement Requests created by the user and their status.
Enhancement Request System - Add Comment: Added the ability for a user to add and view comments on the enhancement request page. This allows for users to add/read enhancement request comments directly within Concierge.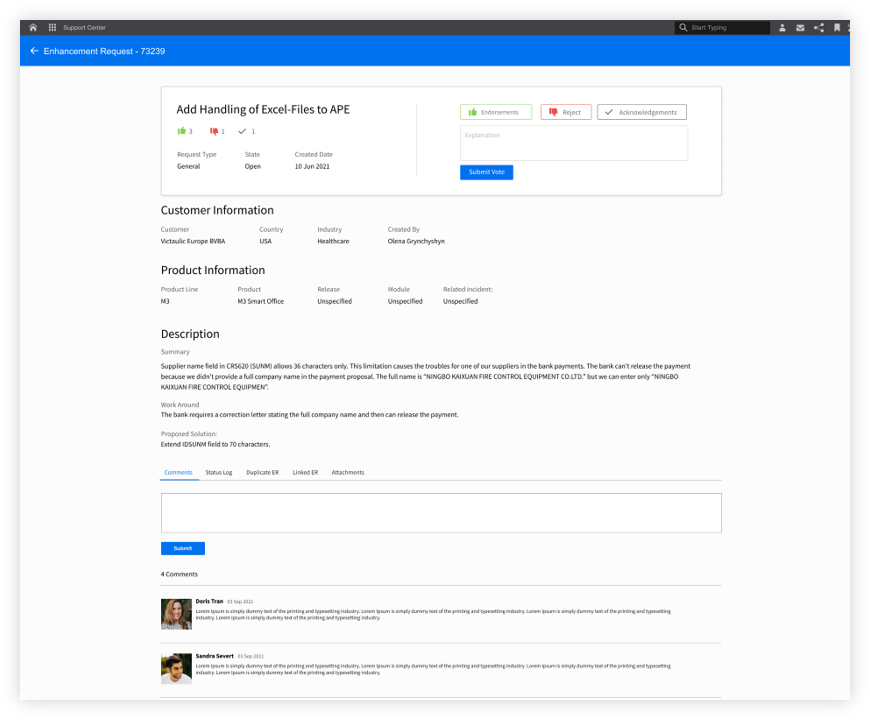 Announcement - Show content warning icon in the Add Translation dialog: We now display a warning icon and tooltip when a user adds a translation to an Image Only Announcement. The visual icons are designed to notify the administrator that translations will not be displayed to users when the Image Only Layout is selected.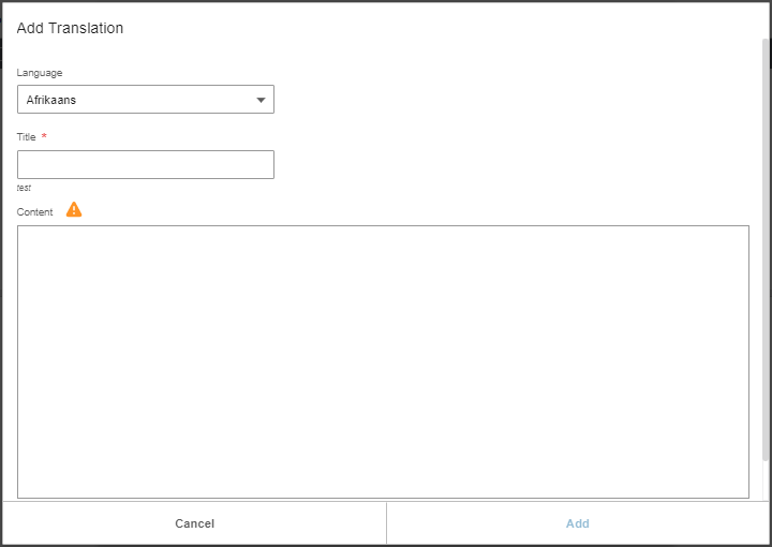 ---
Intelligent Digital Assistance
Markdown - Hyperlink for Mail and Phone: Markdown support for hyperlinks can be used for e-mail addresses and for telephone numbers. Users can start creating an e-mail right after clicking the mail hyperlink in the Coleman response. The phone hyperlink provides fast dial capabilities after selection.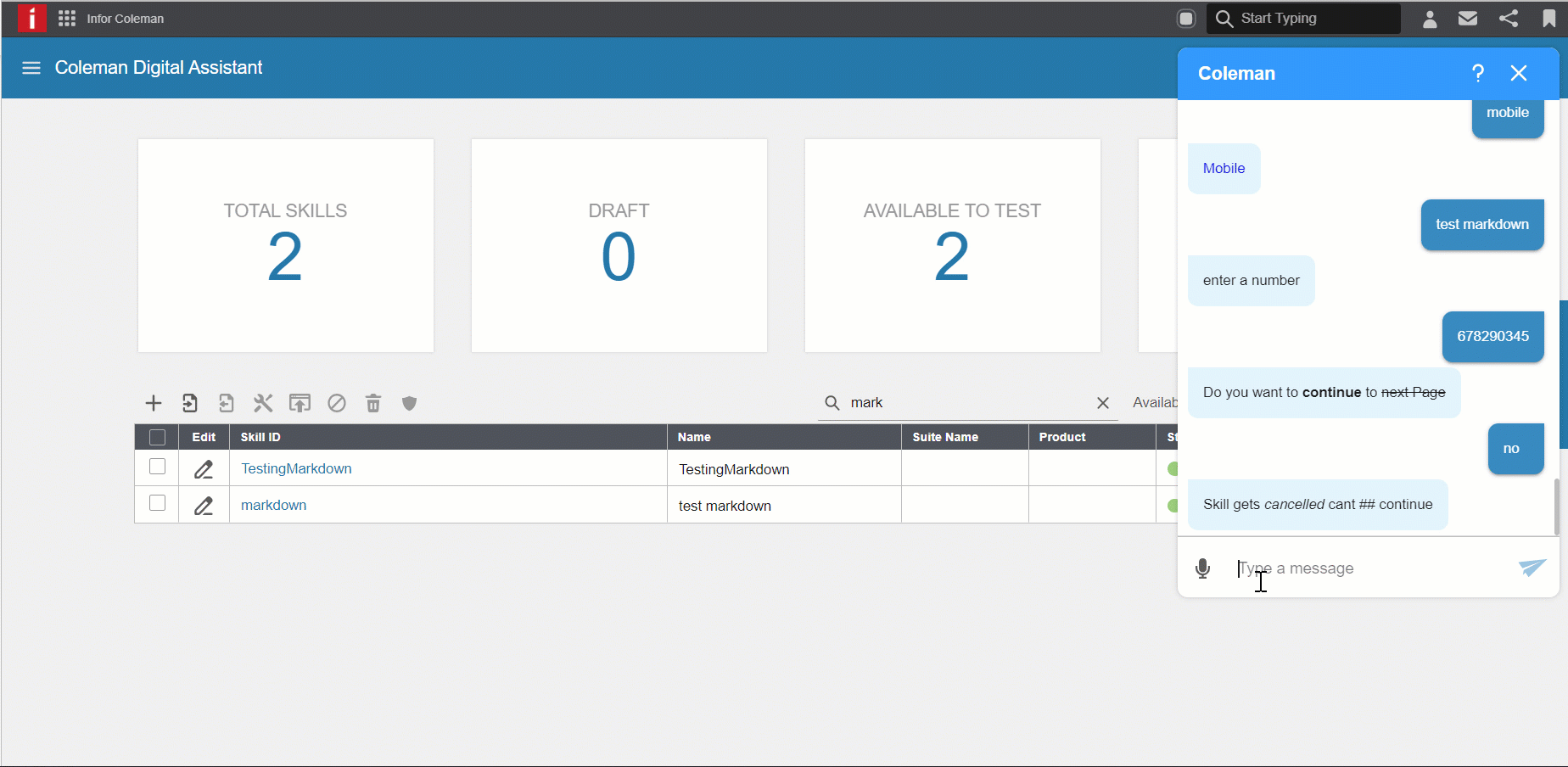 Skill Builder - Maintain Search Filters: After applying search/filters on the Skills Builder page, they are maintained when navigating to and from the Skill Builder page. This keeps the pre-defined list of skills within the single user session.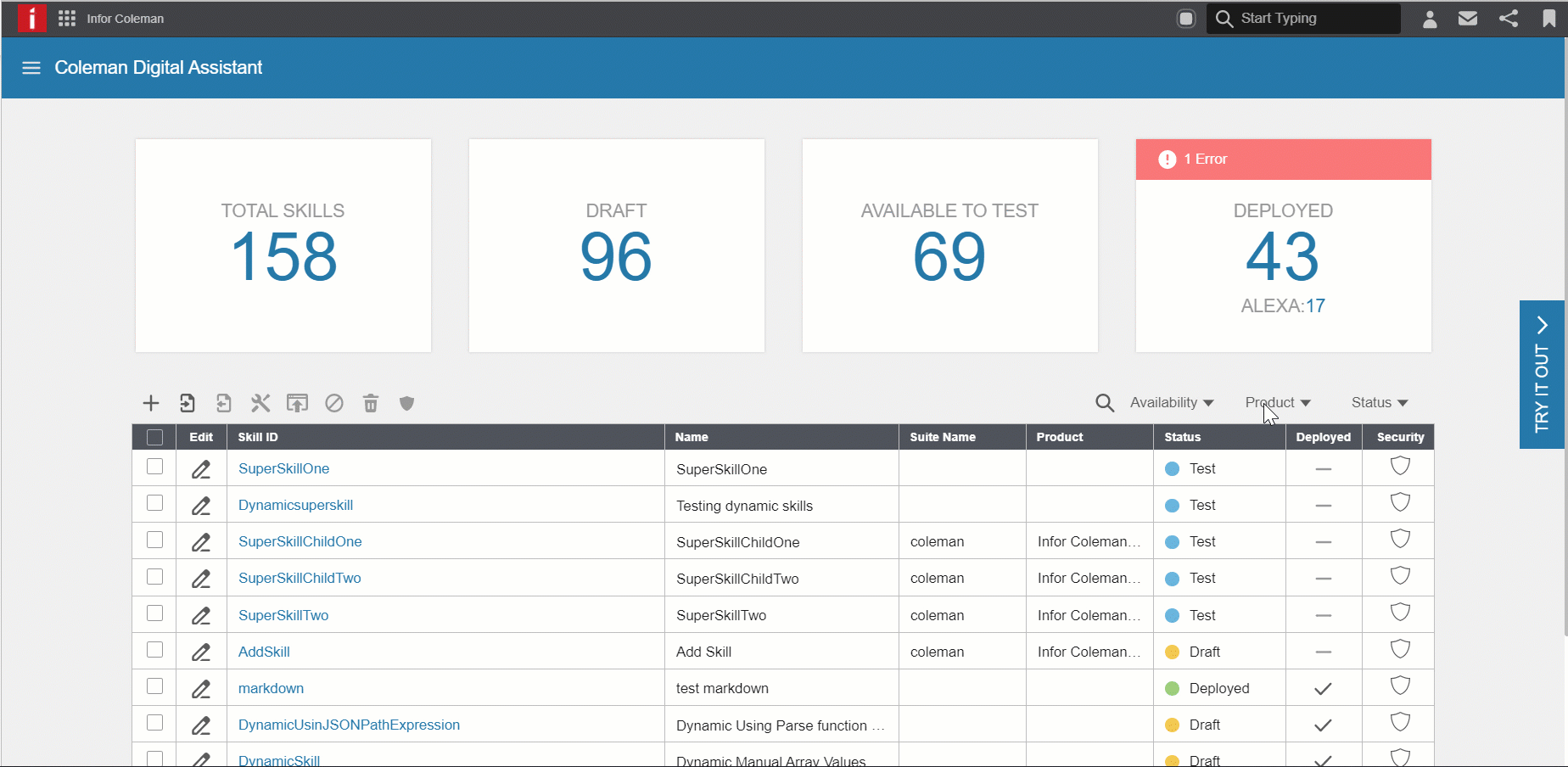 MS Teams - Dropdown List of Utterances: While invoking the 'list-skills' help command in Coleman DA MS Teams application, a long list of utterances is displayed in the drop down. This provides visibility of the available utterances which can be invoked using Coleman in MS Teams.
MS Teams - Disable Previous Card Option: When selecting a Multiple Choice or Dynamic requirement value in Coleman MS Teams chat, this selection will become disabled. Users cannot change it any longer.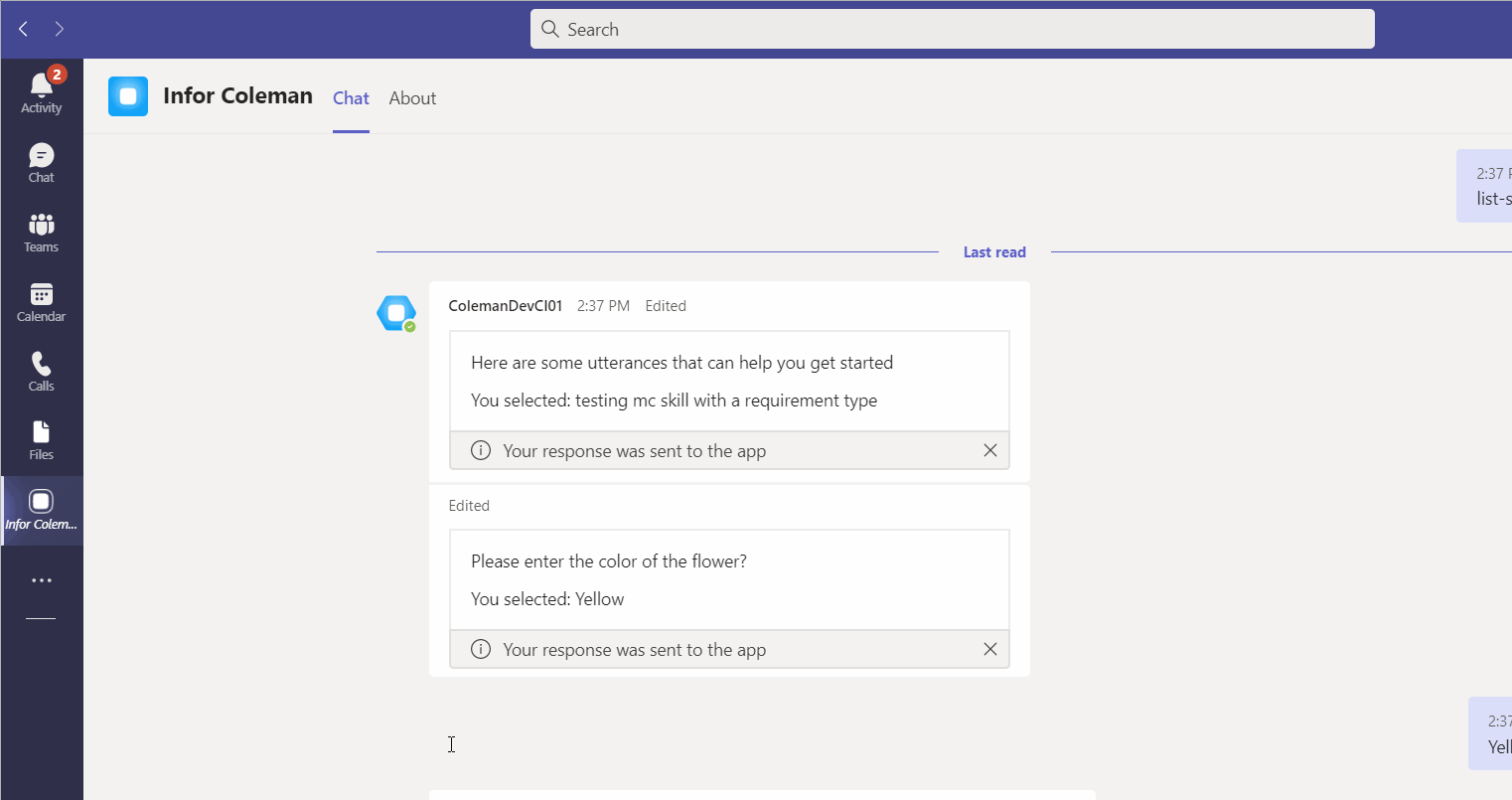 ---
Enterprise Application Integration
Consistent and Unique Message ID: All newly generated 'message ID' headers are made of unique 32 hexadecimal digit string. In case this header is already available, it is prefixed to the unique ID.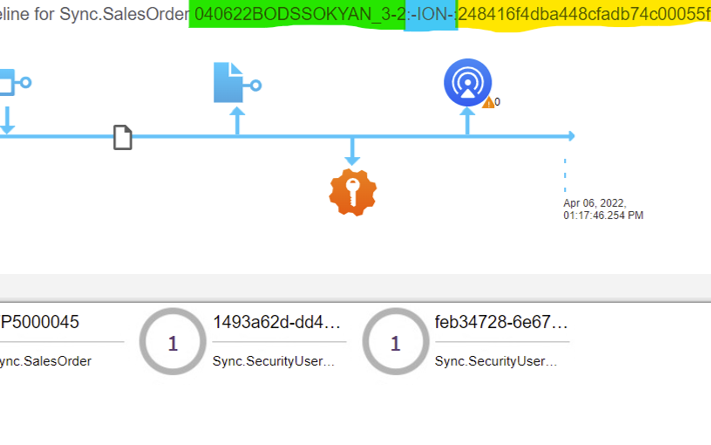 Banner Notification on Email Domain Verification: From the ION 2022.08 release onwards, only verified "From" email addresses can be used to send information about ION activities and in email template files. An information banner has been added on the "Status Overview" page to inform users about this change.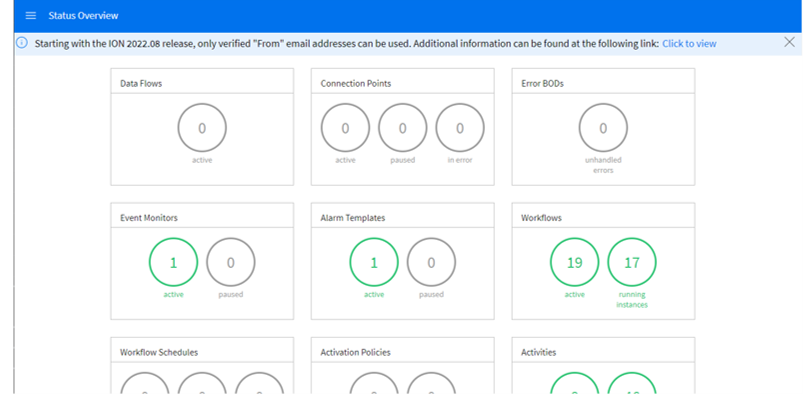 Better Error Code While Invoking Non-existing APIs: Invoking non-existent APIs should result in http 404 instead of http 500.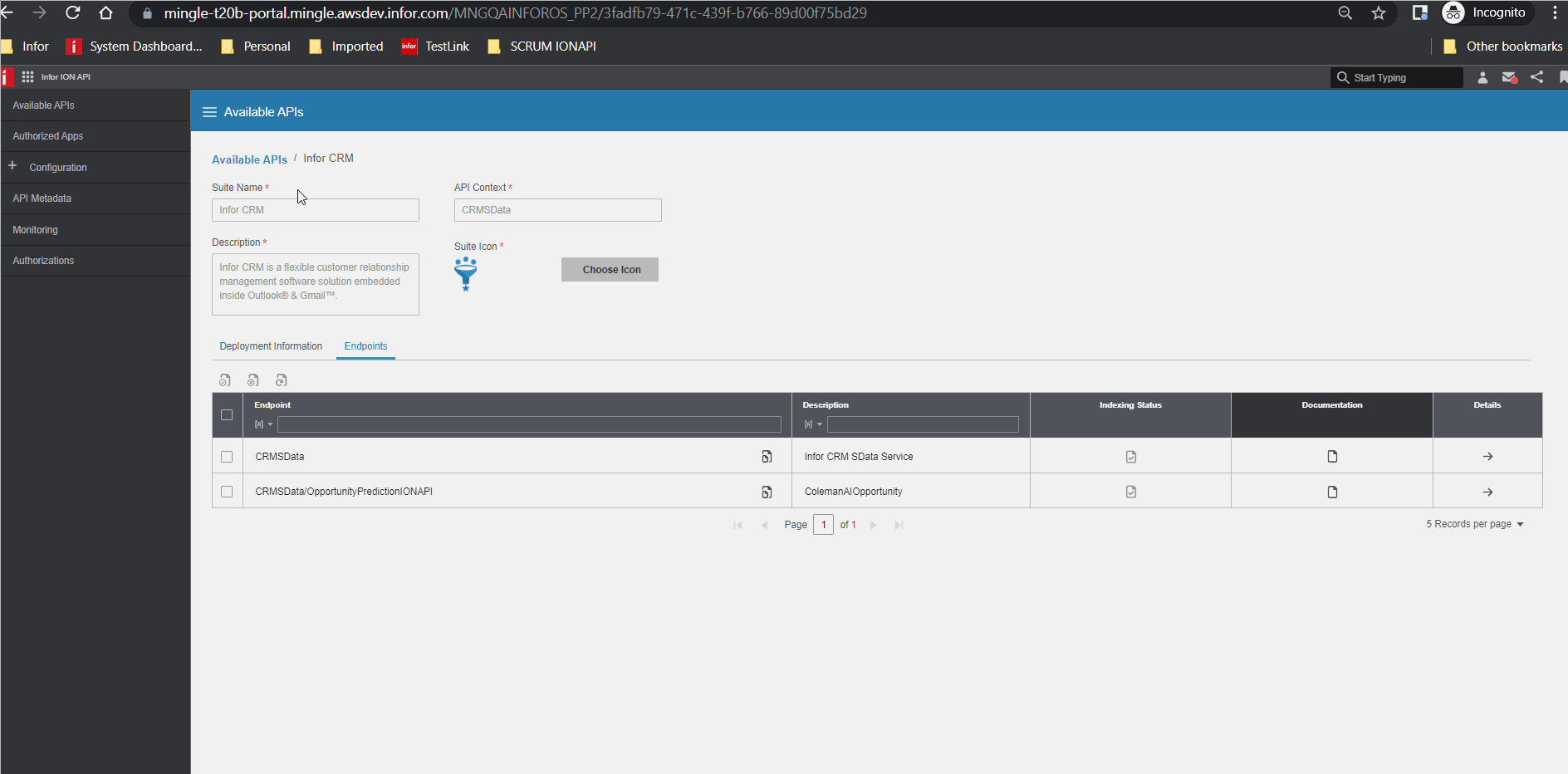 ---
Data Fabric
Data Fabric Ledger: All Infor OS cloud customers will now have the Ledger feature enabled within their tenants. Users can navigate to the Data Ledger feature menu under Data Lake in the Data Fabric application.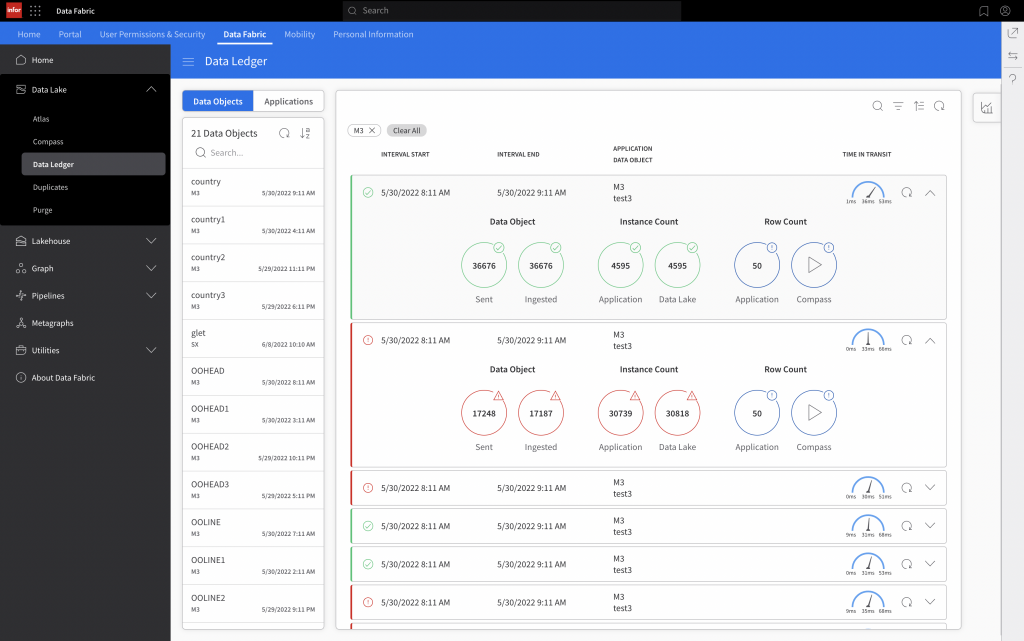 Displaying Schema Title for Objects: When provided, the title of a data object is presented to users in the details panel of a given data object. This improves information availability of data object context and eliminates users from having to navigate to the schema to view titles.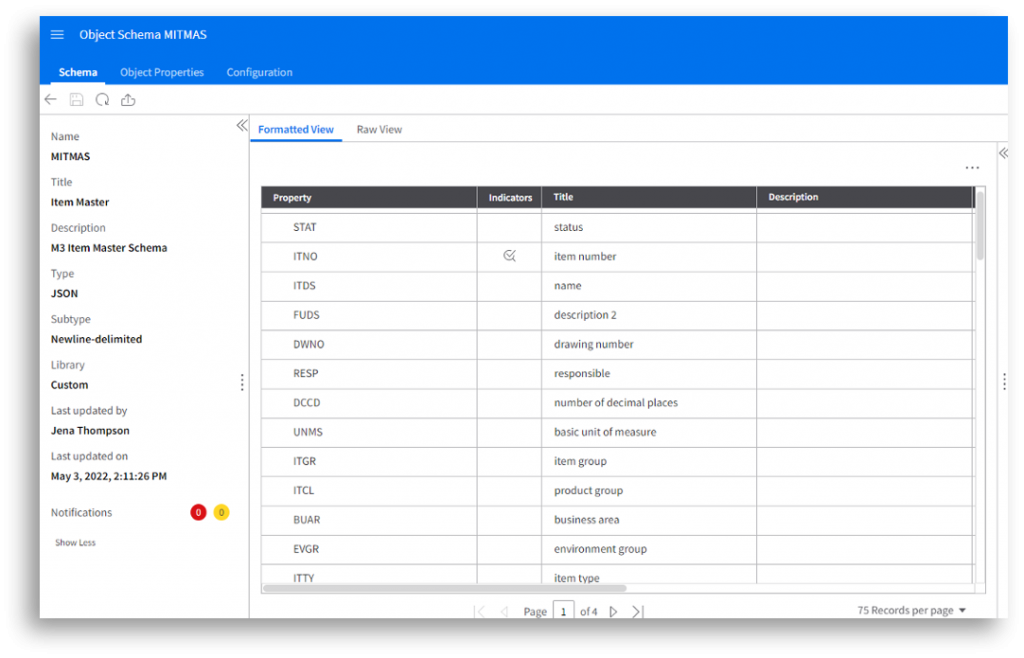 Metagraph - Entity Modeling: Metagraph provides customers with domain models describing product tables (data objects), their relationships with one another, and key columns frequently used in the process of content and analytics development. Functional domain models help identify relevant data objects and their usage to reduce content development research. As a result, users can now quickly identify content used to join datasets together.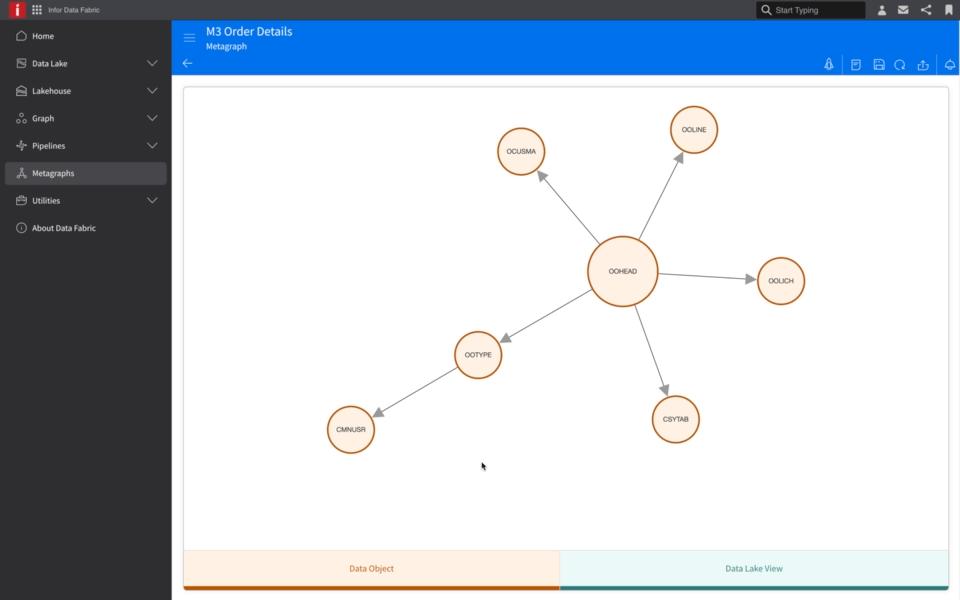 Metagraph - Creating Views: Metagraph users can use a Metagraph to publish a view to Data Lake for Compass to query which accelerates query development times.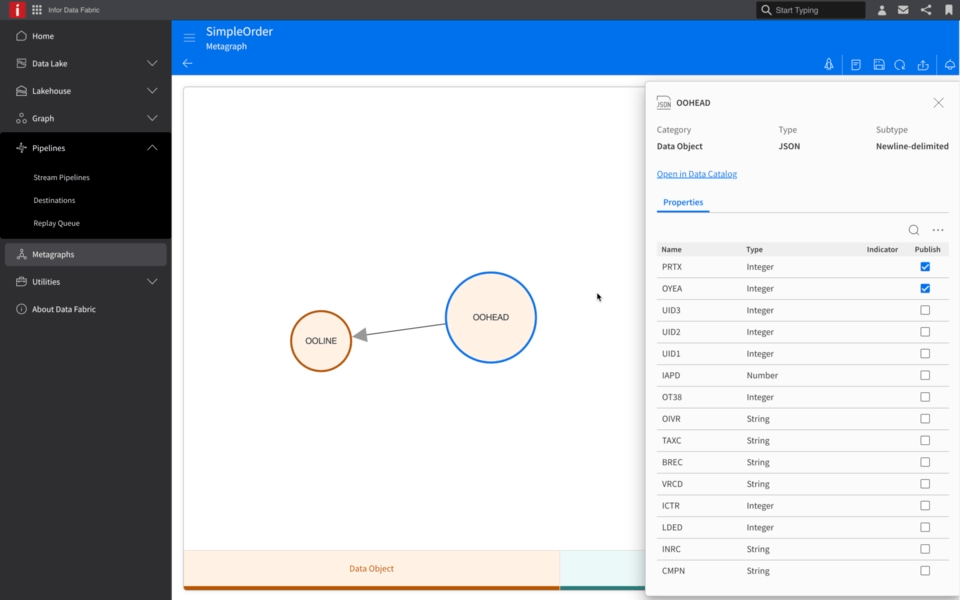 ---
Infor Mongoose
Column Exclusion List: Added the ability to exclude designated columns from triggering delayed replication. If the only value changed on a row is in an excluded column, the row does not replicate.
Prompt to Include Summary Labels: When you export a DataView in which summary labels are set to Excel format, you are now prompted whether to include the summary labels in the contents of the output file.
Send Emails With a Different Domain: On the Sites form, we added the From Email field. You can use this field to override the SMTP From Email value on the Intranets form.
Improved Web Client DataView Filters: In the Advanced Filter dialog box in the web client version of the DataView control, you can now use combinations of AND/OR operators across multiple filter conditions in a single layout, to filter data from multiple columns. A summary of the complete set of filter conditions displays in the dialog box, including the groupings and the order in which the filter conditions are implemented.
Updated Mongoose Form Captions: Several Mongoose form captions have been updated to correct missing spaces, special characters, blank captions, prefixes, and overall consistency with other captions.
---
Infor Governance, Risk and Compliance
Self-review Functionality Enhanced: The Certification Manager reviews can be reassigned only when you select the Allow self-Review check box while defining stage conditions.
Last Modification Date Time Field Added: You can use the Last Modification Date Time field to review user details that are modified after a specific date and time in a certification process
Authorizations Insight Enhanced: Authorizations Insight is enhanced to update a manager name based on the ManagerEmailID value specified in 'authorizationobject' (authorizationobject.JSON) object.
---
A similar set of features will be available in the next on-premise release of Infor OS. A full list of new features, bugs fixed, and other documentation can be found on the Infor Support Portal. Learn more about Infor OS here or contact us anytime.
Don't see a feature you want? Log into the Infor Support Portal and click on Resources > Enhancement Requests. You can enter your own and vote for others.
For more information on product updates, please see the release training that is available to customers on Infor Campus.