The Rise of Unified Data and Analytic Platforms
White Paper
The Rise of Unified Data and Analytic Platforms
Unified data and analytic platforms (UDAP) are the culmination of a multi-decade trend toward functional convergence of data integration with analytics. UDAP products provide a comprehensive and wholly integrated data and analytics experience that accelerates insights, user adoption, and return on investment. For companies afflicted with proliferating data silos and analytical tools, UDAP products are a welcome relief.
Read this Eckerson report to discover how UDAP products enable organizations to replace multiple data, reporting, and analytics tools with a single platform that meets the information requirements of all business users and developers. UDAP solutions also make it easy for smaller companies or departments without IT resources to offer the same (or better) data and analytic functionality as bigger firms.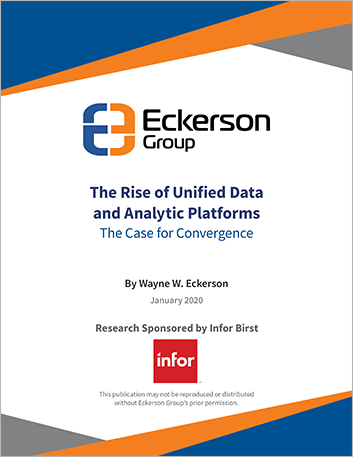 Please complete the form below
Fields with * are required.
Let's Connect
Contact us and we'll have a Business Development Representative contact you within 24 business hours