4 Biggest Bonuses in New EAM Release
Kevin Price and Navin Kulkarni are excited about the new capabilities featured in the release of Infor Enterprise Asset Management (EAM) version 11.5. As product managers and evangelists, they have their favorites, of course.
Here are the big touchpoints they want you to know:
Asset Performance Management: Extends asset lifecycle with enhanced equipment ranking capabilities … an iterative process in the journey to incorporate APM.
Infor Data Lake: Provides a high-volume, scalable storage repository for data across the enterprise, and it's now incorporated.
OpenCAD BIM: 3D modeling is transforming facilities management and a creating visual environment to model physical assets.
Multiple maps on Mobile EAM: Allows users to view more than one map on mobile devices.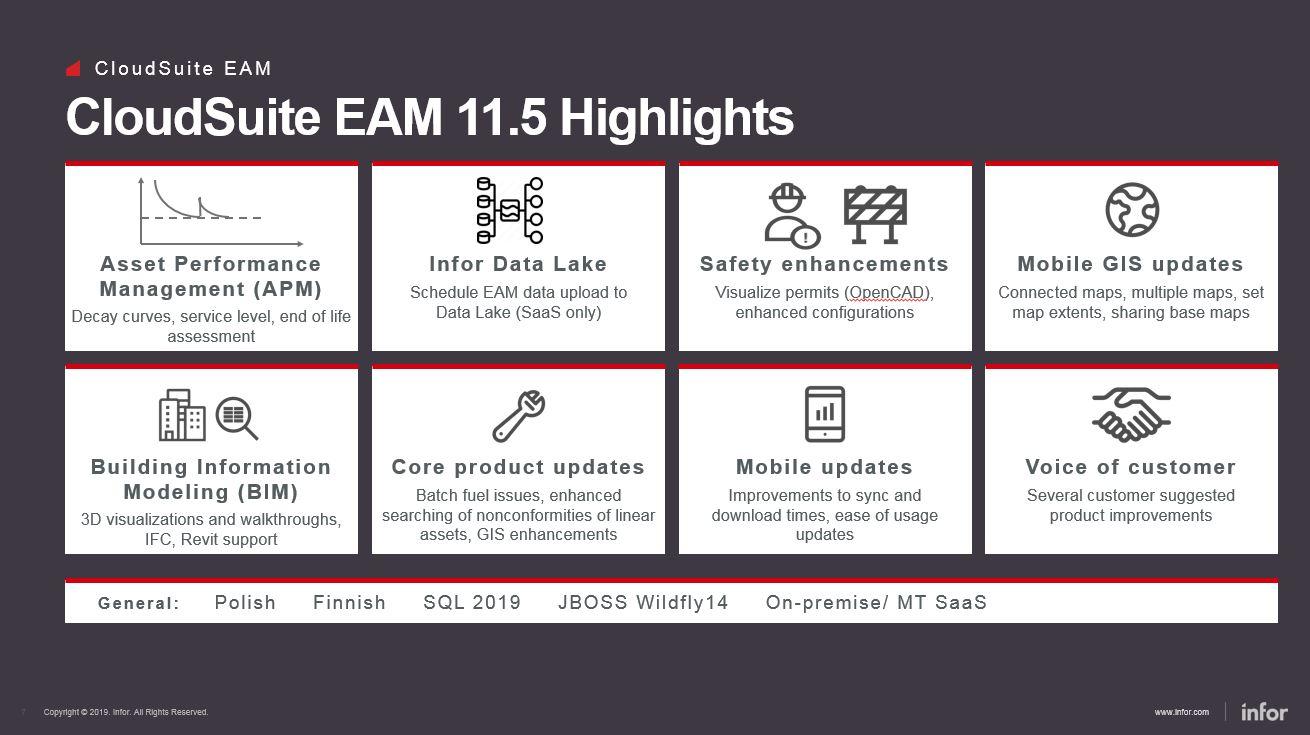 "We have been evolving our EAM towards asset performance, targeted mobility, and scalable data visualization over the past few years. These are particularly strong in this release. They allow companies to incorporate basic to very modern reliability practices and methods," Price says.
Infor EAM 11.5 was released in November for both SaaS and on-premise customers. The next release of its kind is slated for the end of 2020.
"The latest generation of Infor CloudSuite™ EAM delivers several functional and technical updates across the entire portfolio. We worked with industry-leading customers in asset intensive industries to ensure this release delivers powerful updates to equipment ranking capabilities, allowing customers to optimize asset performance and service delivery," Kulkarni notes. "New capabilities and enhancements to existing ones in areas of safety management, mobility, GIS, building information modeling (BIM), and Data Lake adoption deliver a comprehensive platform for customers to evolve their maintenance maturity and asset management strategies."
Global analyst firm Gartner named Infor a Leader in its 2019 Magic Quadrant for Enterprise Asset Management Software.
"Rest assured, we will continue to make Infor CloudSuite EAM the true best-in-class global leader," says Price.
A live webinar to showcase what's new in Infor CloudSuite EAM v11.5 is set for 11 a.m. ET Tuesday, Jan 14. Register now.
Additional 11.5 enhancements
Longer part descriptions
Linear search on nonconformities
Equipment filters on material lists
Improvements to work orders
Improvements to permits to work and projects
OpenCAD enhancements
Let's Connect
Contact us and we'll have a Business Development Representative contact you within 24 business hours