Infor ontvangt weer de BIC Technology Excellence in Libraries Award
Infor Libraries and Information Solutions heeft opnieuw de BIC (Book Industry Communication)Technology Excellence in Libraries Award ontvangen. Dit jaarlijkse accreditatieprogramma, ontworpen door BIC voor bibliotheken en hun leveranciers, "helpt activiteiten in de bibliotheektoeleveringsketen te promoten, aan te moedigen en te belonen" met betrekking tot de toepassing van "best practices" en industriestandaarden. De prijs is direct gealigneerd met het programma van BIC, inclusief de ontwikkeling van 'full-cycle' EDI, RFID en boekclassificatie. Ga voor meer informatie over de prijs naar:
https://www.bic.org.uk/191/Tec...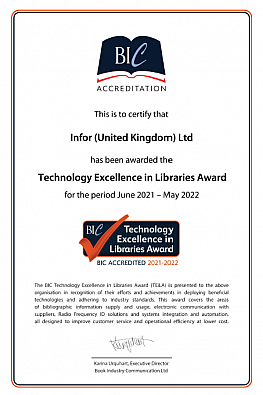 Product
Library and Information Systems
Neem contact op
Neem contact met ons op en een Business Development Representative contacteert u binnen 24 uur.
Infor hecht veel waarde aan uw privacy.