Bozeman Health safeguards frontline workers with analytics
Case Study
Bozeman Health safeguards frontline workers with analytics
For more than 100 years, Bozeman Health has been Southwest Montana's leading provider of compassionate, expert health and wellness care.
When the COVID-19 pandemic hit, Bozeman Health's data and supply visibility problems heightened as the purchasing and stocking of personal protective equipment (PPE) became more critical than ever. Infor Birst and Infor Financials & Supply Management quickly became essential tools in Bozeman Health's frontline pandemic response, helping staff generate and share accurate reports through various pre-built dashboards.
Learn more about how Infor Birst helped Bozeman Health to manage PPE supplies and provide accurate, automatically generated reports within the organization and beyond. When Bozeman Health's teams were able to minimize manual input, they could focus on what matters most: Protecting their people and empowering them with the tools they needed to stay safe while delivering care to those in need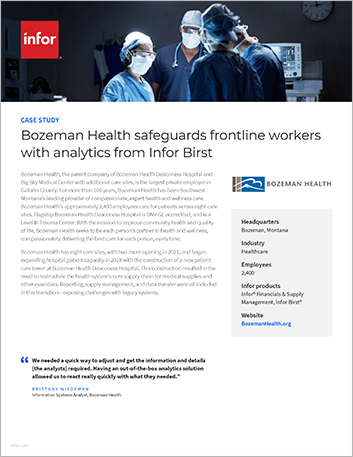 Neem contact op
Neem contact met ons op en een Business Development Representative contacteert u binnen 24 uur.
Infor hecht veel waarde aan uw privacy.