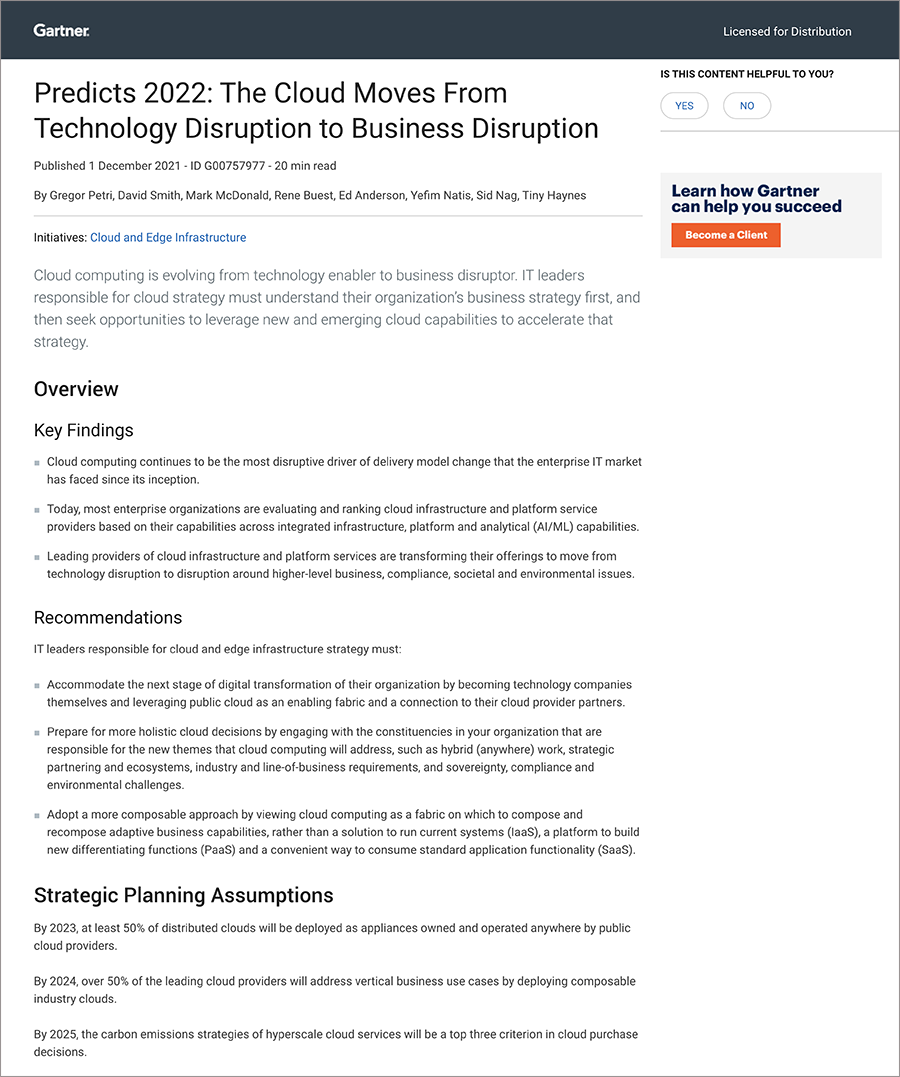 Analyst Report
Gartner® Predicts 2022: Cloud moves from tech disruption to business disruption
Overview
According to Gartner, "Cloud computing is evolving from technology enabler to business disruptor. IT leaders responsible for cloud strategy must understand their organization's business strategy first, and then seek opportunities to leverage new and emerging cloud capabilities to accelerate that strategy."
Report highlights:
• "Cloud computing continues to be the most disruptive driver of delivery model change that the enterprise IT market has faced since its inception."
• "Today, most enterprise organizations are evaluating and ranking cloud infrastructure and platform service providers based on their capabilities across integrated infrastructure, platform and analytical (AI/ML) capabilities."
• "Leading providers of cloud infrastructure and platform services are transforming their offerings to move from technology disruption to disruption around higher-level business, compliance, societal and environmental issues."
Gartner report "Predicts 2022: The Cloud Moves From Technology Disruption to Business Disruption", 1 December 2021, Gregor Petri et al.

GARTNER is a registered trademark and service mark of Gartner, Inc. and/or its affiliates in the U.S. and internationally and is used herein with permission. All rights reserved."
Please complete the form below
Fields with * are required.
By clicking "Submit" you agree that Infor will process your personal data provided in the above form for communicating with you as our potential or actual customer or a client as described in our Privacy Policy.
This site is protected by reCAPTCHA and the Google Privacy Policy and Terms of Service apply.