The 2021 Smart Decision Guide to Hotel Property Management Systems
White Paper
The 2021 Smart Decision Guide to Hotel Property Management Systems
The hotel property management system is a key lever in enabling hospitality organizations to meet today's unprecedented challenges while also providing the basis for those still to come. At least, that's what every hotel PMS should be.


There are emerging forces, trends, and changes that drive present challenges, and with more of them to come. That means that hospitality organizations must take a serious look at how well they are prepared for the next year, the decade ahead, and beyond. What are some of the must-ask questions that should be driving that conversation? How should that affect how to plan a more effective technology roadmap?

Get your copy of Starfleet Research's comprehensive, in-depth 2021 Smart Decision Guide to Hotel Property Management Systems to learn how the modern hotel PMS is evolving in alignment with the "new normal" for the hospitality industry.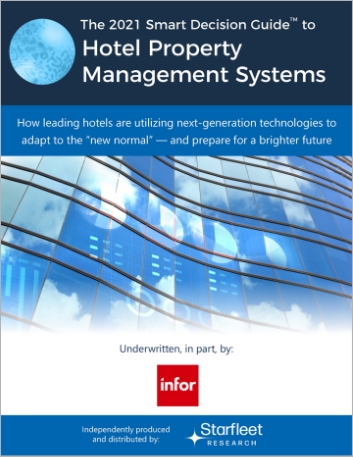 Please complete the form below
Fields with * are required.
Let's Connect
Contact us and we'll have a Business Development Representative contact you within 24 business hours